Looking for the videos? They have been moved to their own page - view them here.
---
News
Interested in submitting an article? Email learn@acadiaseniorcollege.org or call 207-288-9500.
Index of news articles:
---
by Ann Caswell
photos by Ann Caswell and Donna Reis
On the 1st day of March, twenty four Acadia Senior College members and friends gathered for two days of "interaction and fun" at Schoodic Education and Research Center. SERC, the site of a former military base, is located at the tip of the Schoodic Peninsula, within the boundaries of Acadia National Park. While there, we were able to learn about the educational programs and scientific research done by Schoodic Institute professionals.
Our first activity, after a lunch of Reuben sandwiches and corn chowder, was a walk on t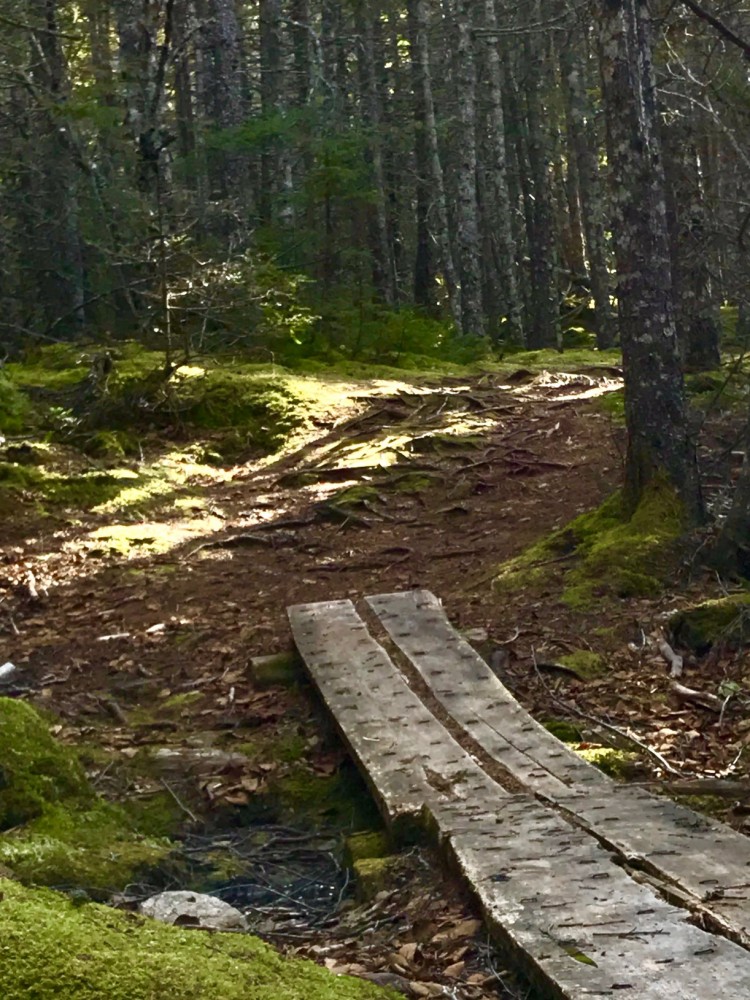 he Sundew Trail, which leads from SERC campus to a couple of inter-tidal beaches on Frenchman Bay. Our guide was Sarah Hooper, Schoodic Institute Education Specialist, who invited us to ponder and share our thinking about our place in the natural world. She gave us little notebooks for jotting and sketching, but it was so cold that most of us opted to forgo those activities and keep our mittens on!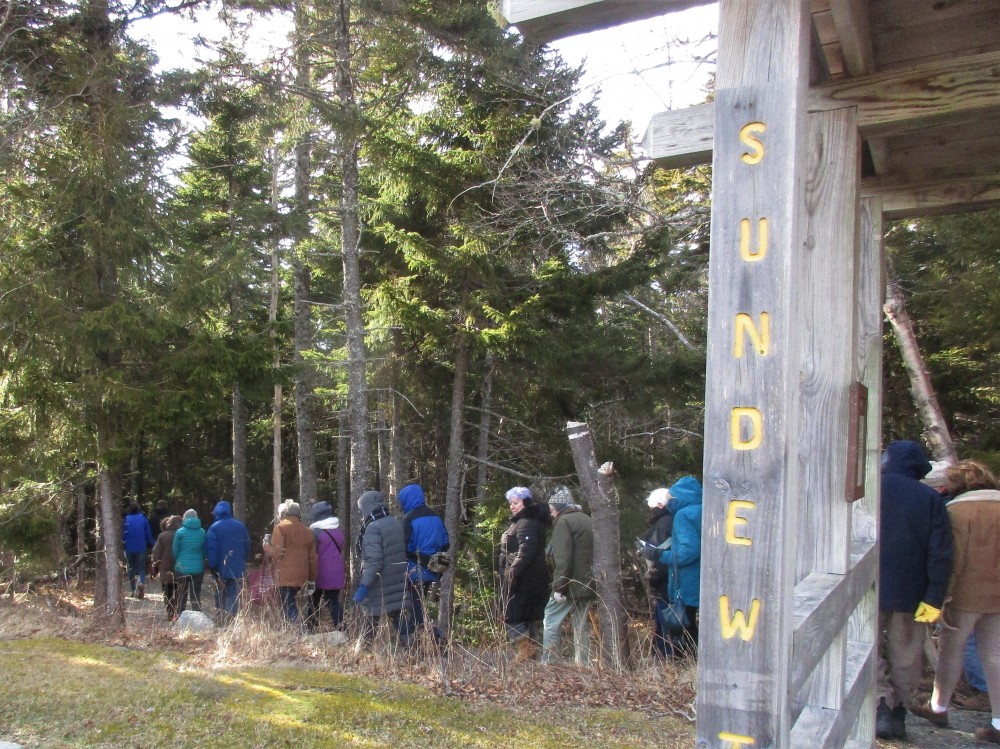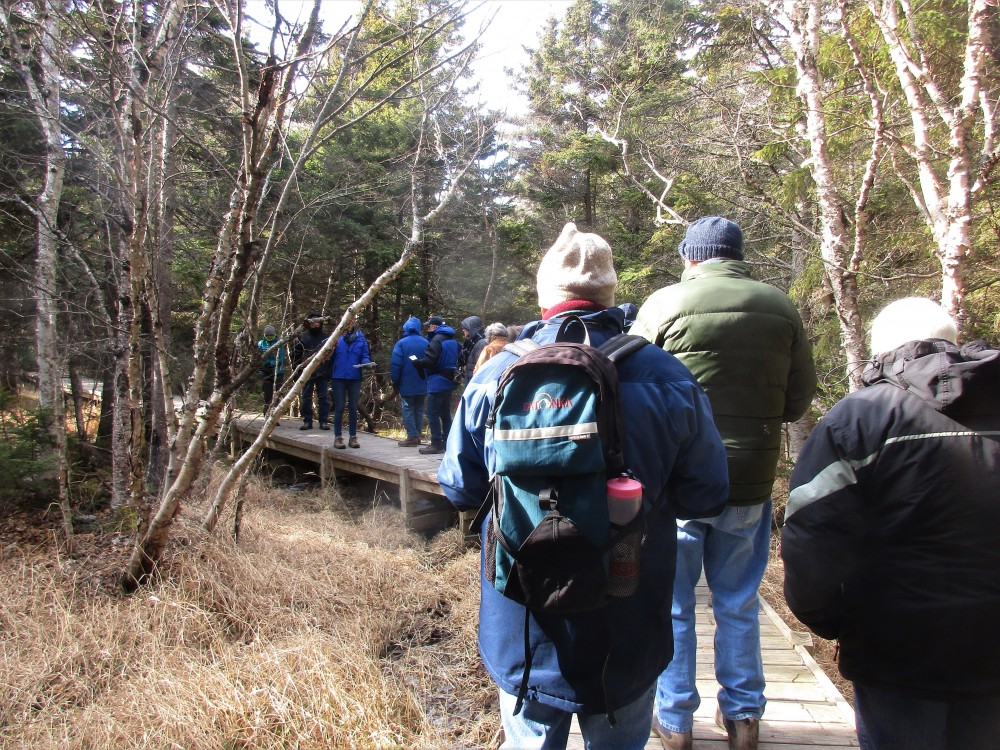 Everyone enjoyed warming up in front of the fire at Schooner Commons, where Bob and Kathe of Bartlett's Winery offered us a sampling of their regional wines. Bartlett's is located right up the road in Gouldsboro, and has developed a range of delicious wines made from local ingredients such as apples, pears, and blueberries. ASC provided a cheese platter for this happy hour, and we then enjoyed a dinner of beef stew, orzo pilaf, and peach cobbler in front of the glowing fire. (The food is mentioned often here, because the staff does a great job offering tasty, hearty meals that are a highlight of the program!)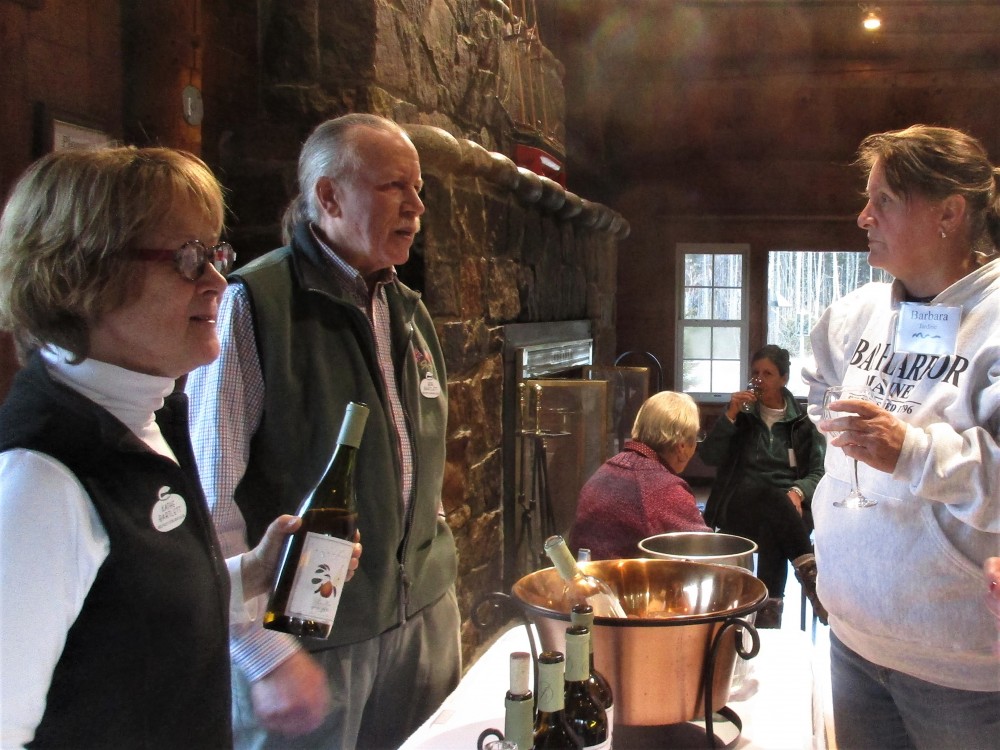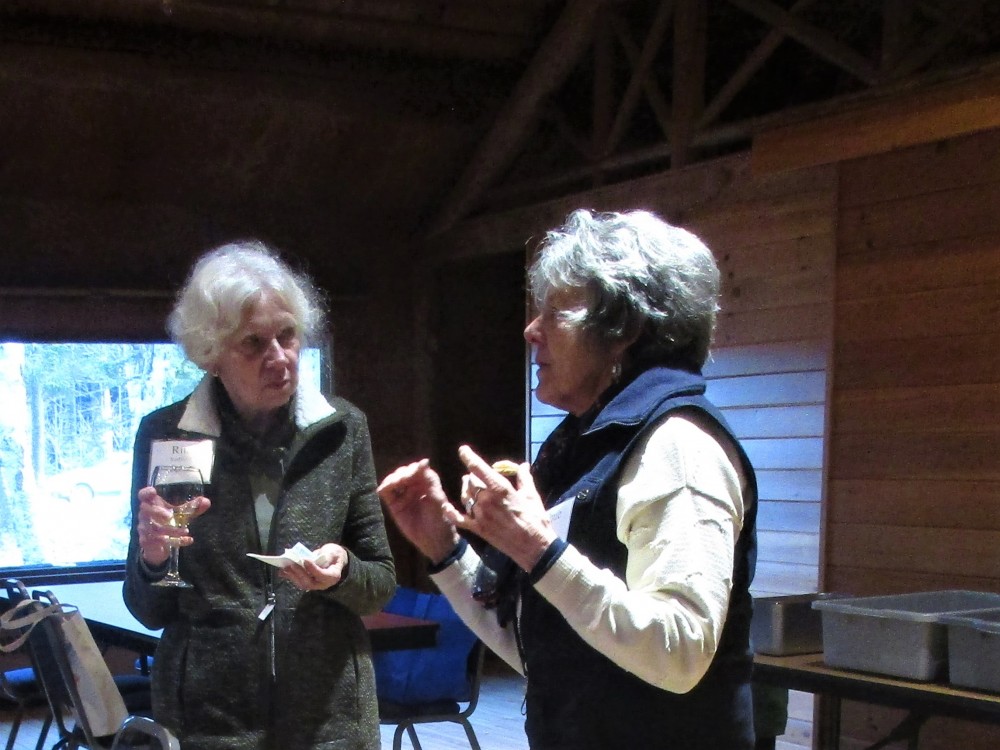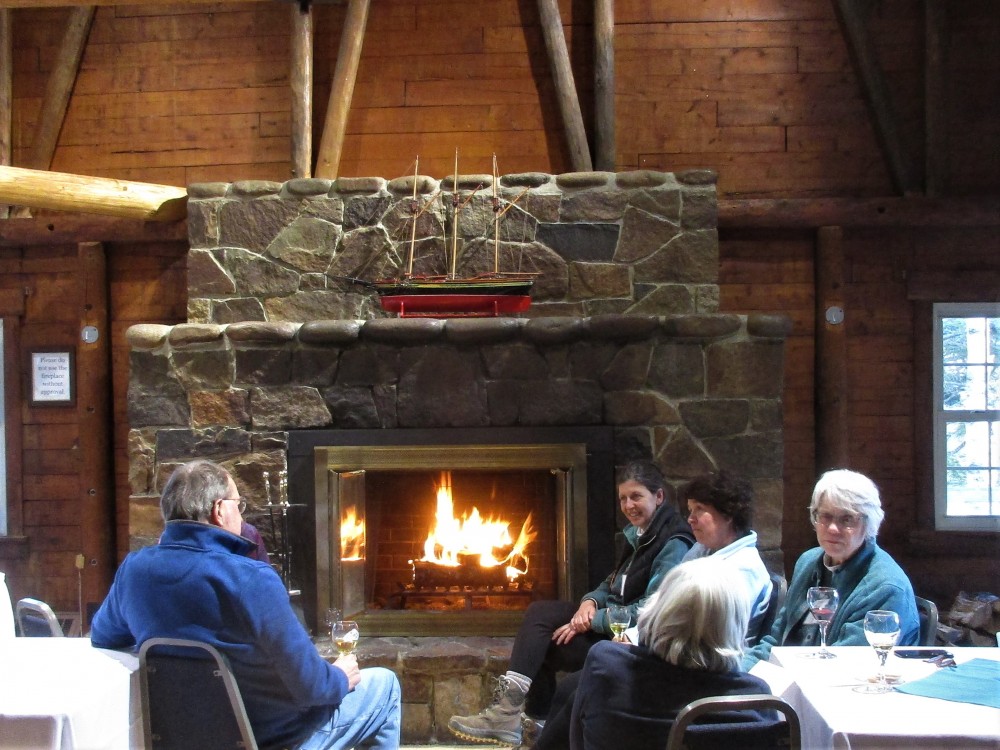 After dinner, the group set out into the cold once again and spent some time stargazing down at Schoodic Point, out on the open ledges, with a 360-degree view of the skies. It was a completely clear night, with a first quarter moon to our South and a fine view of Venus, the brightest object in the sky after the sun and moon. Ann Caswell, amateur star lover, took us on a tour of the circumpolar constellations and the winter hexagon, pointing out several first magnitude stars. As we were leaving, she showed us the constellation Leo, rising in the East, a prominent Spring constellation – indicating that that the Equinox and warmer days await.
The classic Bill Forsyth film "Local Hero" was screened at Moore Auditorium to finish up the day's activities. Although made in 1983, this comedy about a big oil company's effort to buy an entire Scottish harbor town explores themes that are still timely.
At our breakfast of waffles and sausage, many participants commented on their good night's sleep. It was starting to feel like we had been here for quite a while! Rick Henion was then on hand to instruct us in assembling several pots for outdoor Dutch oven cooking. We hung around the fire pit for warmth, and helped maneuver briquettes around the big cast iron pots that contained our soon-to-be lunch. We had quite a buffet of cinnamon monkey bread, savory cheese and bacon pull-apart rolls, vegetarian lasagna, chicken and rice, cornbread, apple crisp, and cherry dump cake.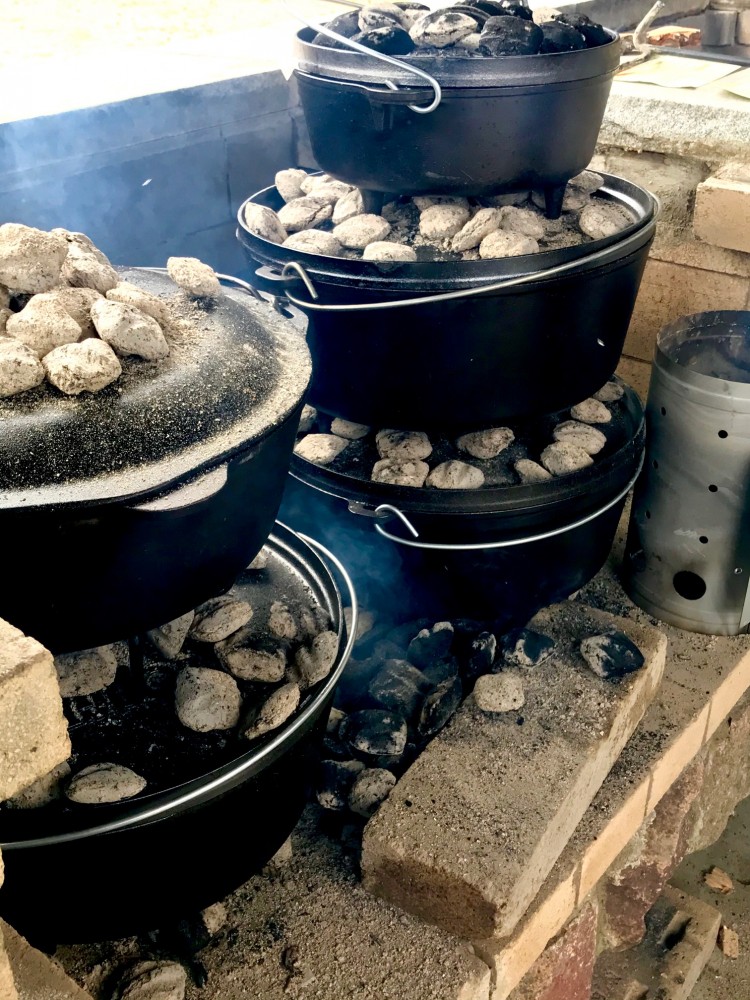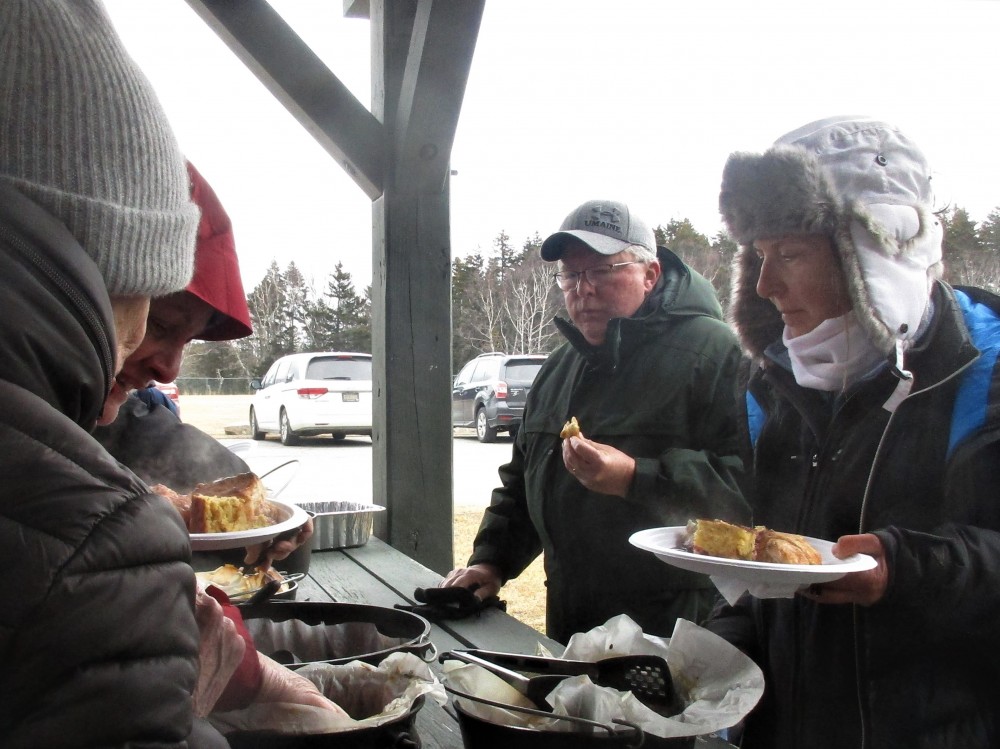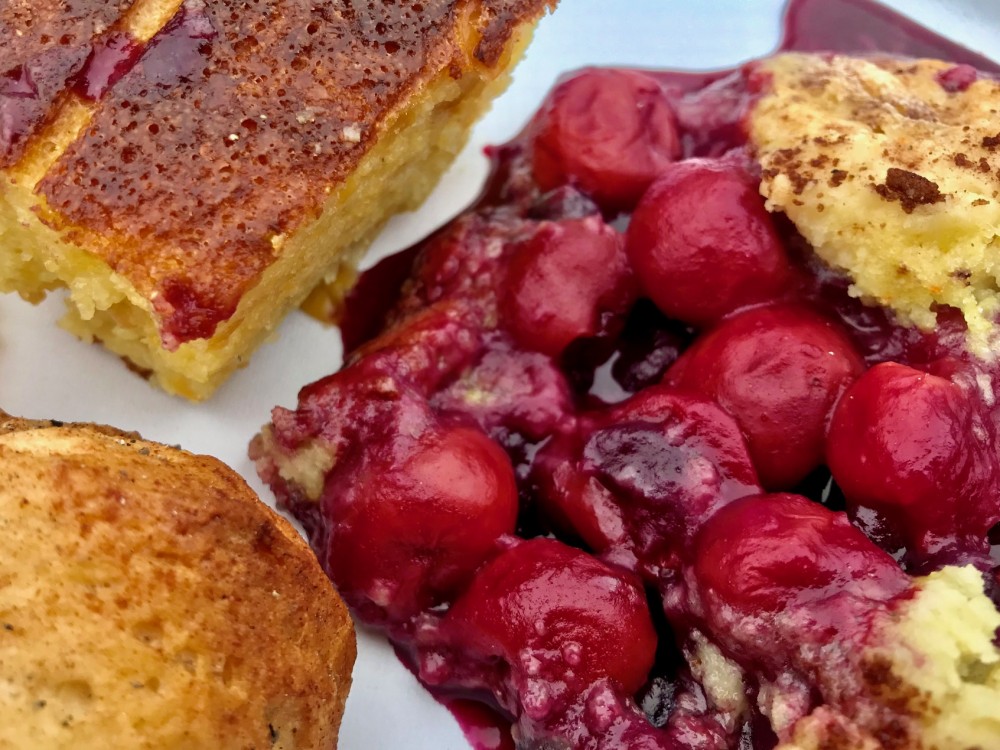 Schoodic Institute Director of Bird Ecology Seth Benz spent some time introducing us to the coastal birding scene, some observations related to climate change, and the kind of education and research they do here. He also answered lots of interesting questions from participants about some of our own observations. Then the intrepid group set back out under skies that had turned gray to see if we could observe any birds in windy Arey Cove. We did see an eagle, some buffleheads, black ducks, a herd of deer crossing to Little Moose Island, and other interesting sightings. But conditions for bird watching were far from optimal. Our feathered friends had the sense to find shelter from the cold South wind, and before long, we did the same.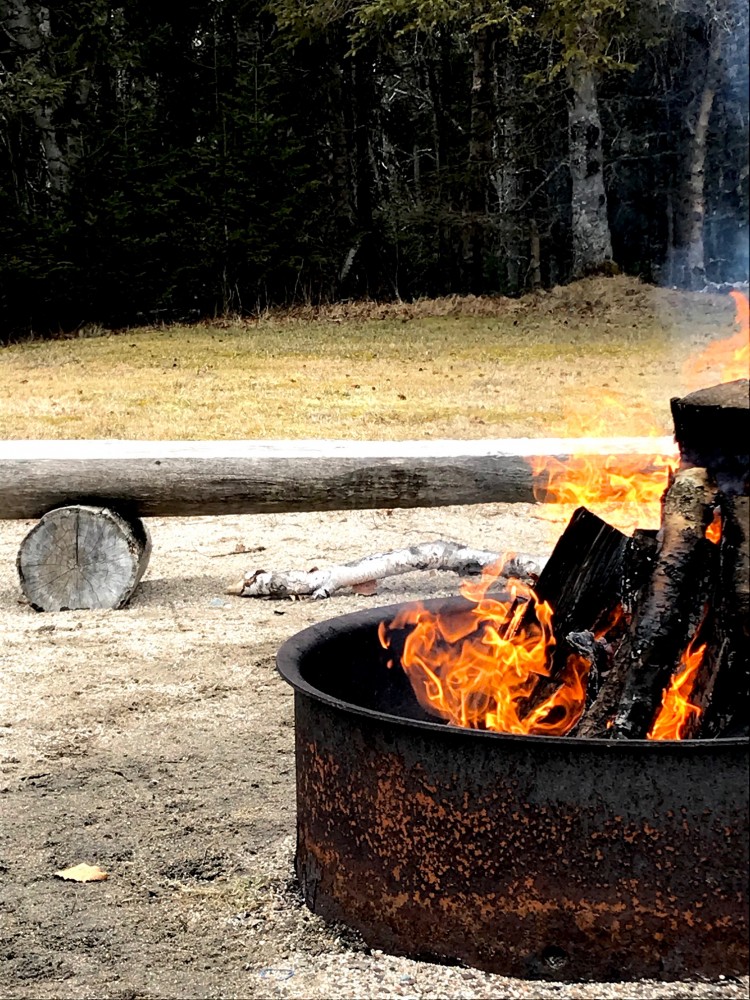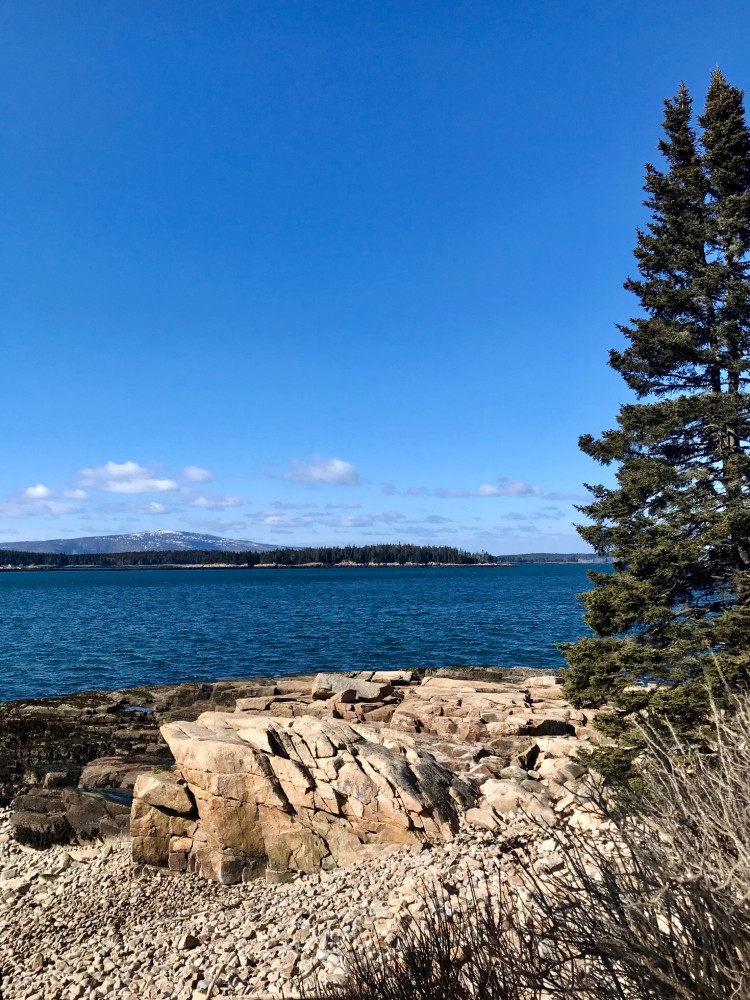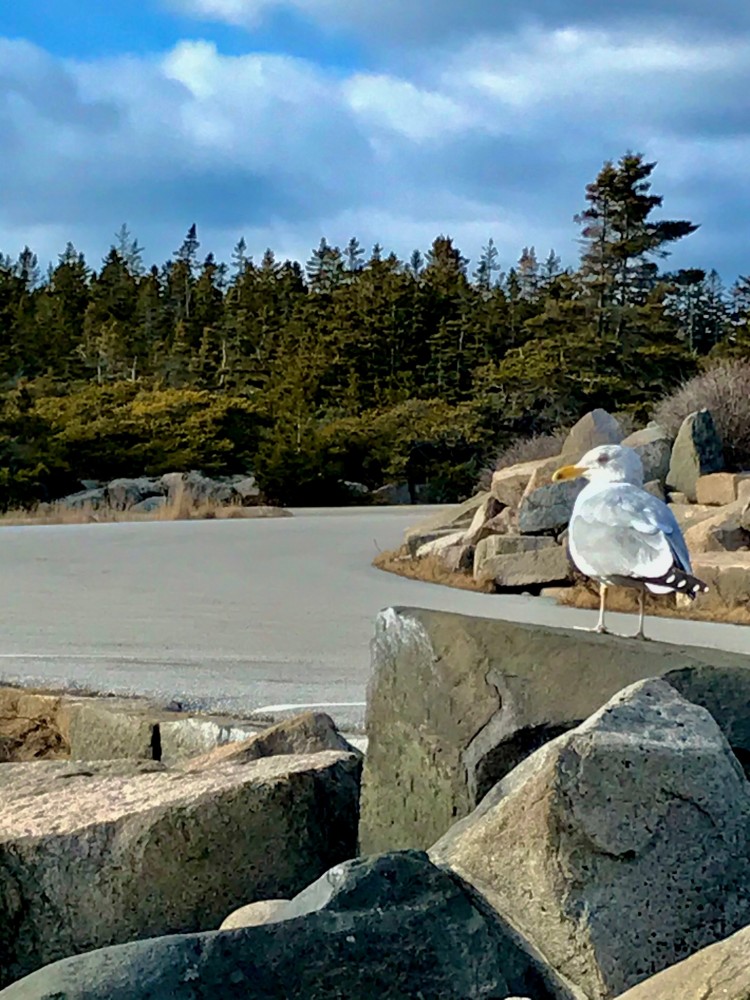 ---
Dues, Tuition, Donation – What Does It All Mean?
Every fall, it seems we are bombarded with letters from charities and other non-profit organizations appealing for donations. Acadia Senior College also makes such an appeal, and some members wonder why. If our instructors are volunteers and our classroom sites are free, why does ASC need any funds besides what we already pay for membership and tuition?
What does it mean to be a member of Acadia Senior College? ASC is a 501(c) (3) non-profit membership organization. This means that you, the members, are the authority that runs the College, through an elected Board of Directors. Whether you take a course or not, your membership dues ($35) entitle you to attend all our events, receive all our communications, and most importantly, participate in elections at the annual meeting and have a voice in how the College operates.
What are course tuition fees used for? Yes, our sites are free and our instructors are volunteers. But administering all that we do requires a paid part-time staff. Related expenses include brochure printing, office supplies, internet and phone, website maintenance and improvements, etc. Tuition also covers the expense of all course materials – textbooks, literature, photocopies.
So, why the annual appeal for donations? The funds generated by membership dues ($13,000) and course tuition ($25,000) make up the bulk of ASC income. (All figures used in this article are approximate based on the last couple of years.) We also receive some income from grants ($5,000) as well as from investment and endowment interest ($4,000).
What are our expenses? Our major expense is for staff. We spend about $47,000 a year for administration plus bookkeeping and accounting. Other significant costs are for course materials and production of our brochures as well as for office supplies and equipment ($20,000).
As you can see, our income of about $47,000 does not cover our expenses of about $67,000. We make up the difference by the generosity of our members, who have historically donated another $20,000 in response to our appeals.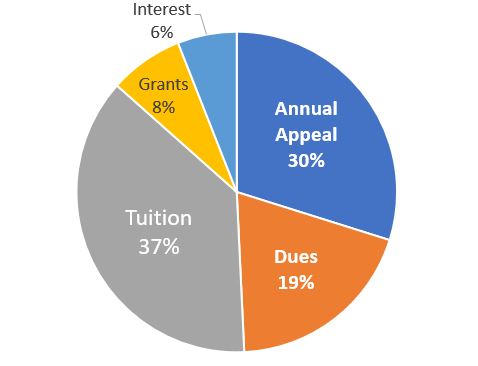 ASC is on very solid financial footing, thanks to you. We are able to keep our basic charges for membership and tuition relatively low. We have enough flexibility in our budget to provide our four social events at no additional cost to members. Also, this past summer, we were able to co-sponsor a series of speakers at the Jesup Library and offer the documentary film "Sonic Sea" free of charge to our community.
When you receive our appeal in the mail later this fall, please support ASC with your tax-deductible donation. This is easily done on our website
acadiaseniorcollege.org
by clicking on
DONATE
. You don't even have to log in. At the same time, consider becoming a monthly donor. This is a convenient way to donate a little at a time throughout the year. Also, remember that gifts made to honor or memorialize a special person can be made at any time. As you can see, we truly count on your support!
---
Rockland Field Trip - June 2019
by Ann Caswell
On June 7, thirty-two ASC members climbed aboard a Cyr coach for a trip to Rockland. It was a gorgeous spring day, sunny and quite warm on the mid-coast, perfect for visiting museums and exploring this artsy little city.
Our first stop was Owl's Head Transportation Museum, where Nat Fenton joined us, appropriately, by plane. The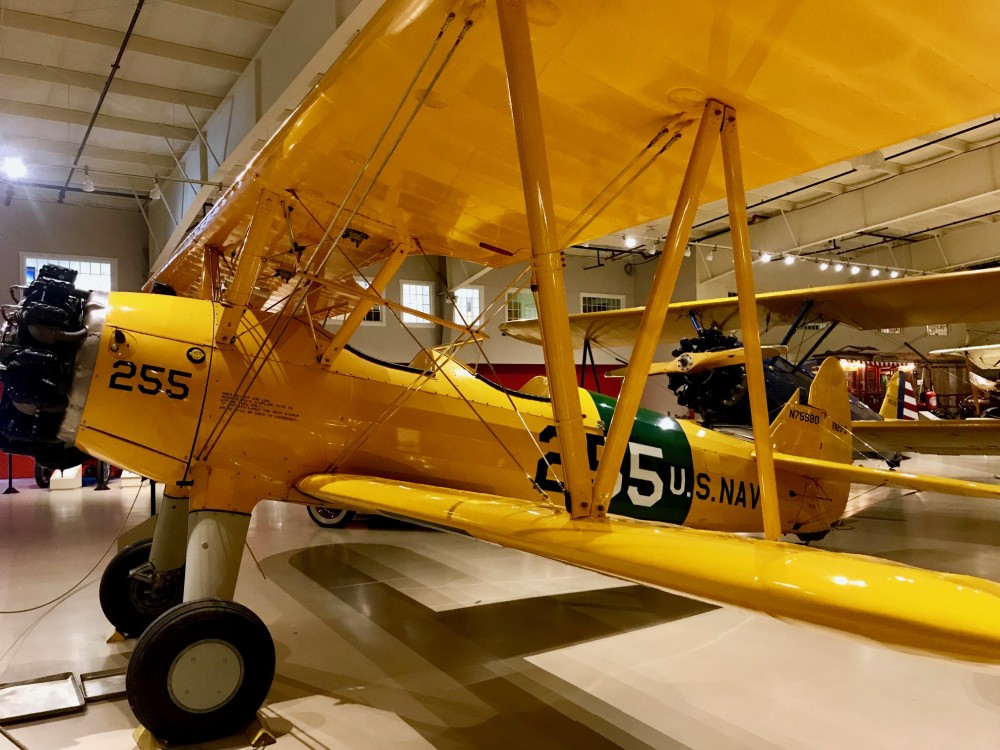 enthusiastic docents told us about the history of the museum, upcoming events (including the raffling off of a 1956 Thunderbird!), then showed us around different displays. We learned about the history of mechanical engines and saw examples and models. Following along the history of transportation, we looked at such conveyances as a stage coach (Concord Coach from NH) and even a bright red and gold gypsy wagon. Then we moved out to look at different examples of automobiles, some of which were familiar to us from Seal Cove Auto Museum. Among the air travel exhibits, we saw a replica of the Wright Brothers' plane and a fascinating purple jumpsuit designed by a pioneering woman flyer. As a fun finale to our visit, our docent took us for rides around the grounds in a Model T!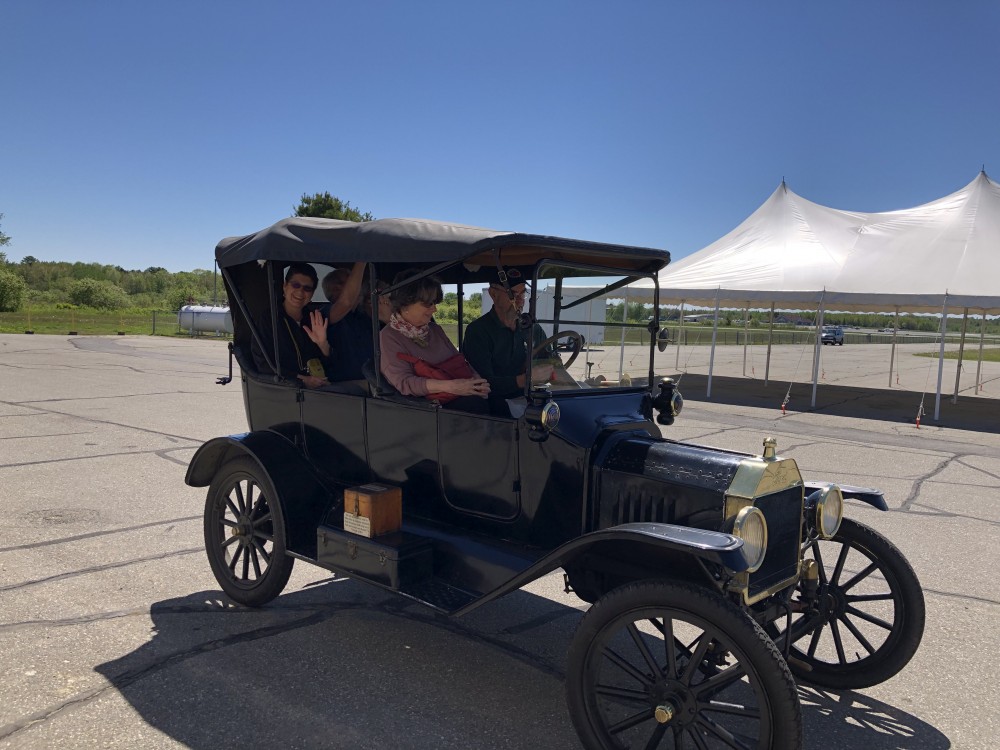 After that, our bus driver dropped us off in downtown Rockland where we were able to spread out to enjoy lunch and explore the small shops and galleries that line the main street. Some folks ate at the well-known Cafe Miranda, while others had sandwiches and lemonade under sidewalk umbrellas. Some went down to the waterfront and viewed the Puffin Project exhibit; others were moved by the amazing works considering climate change at the Center for Maine Contemporary Art. We had the opportunity to meander around and purchase books, gifts, souvenirs, and iced coffees.
The group reconvened in mid-afternoon at the Farnsworth Museum. There, docents introduced us to several special exhibits as well as some highlights of the permanent exhibit. We were impressed by the work done by school groups from the surrounding area. It's always amazing to look at Maine landscapes by iconic artists like Rockwell Kent and Andrew Wyeth. A special exhibit called "Slab City Rendezvous" showed some paintings by those who often gathered at the summer home of Red Grooms, like Alex Katz and Neil Welliver.
The trip was a great way to learn something new and to revisit something meaningful. It was also fun to mix with ASC friends and meet some new ones. And it was relaxing to travel by bus. Thanks to Jeff Dunn and the Events Committee for organizing a day of stimulation, knowledge, interaction, and fun!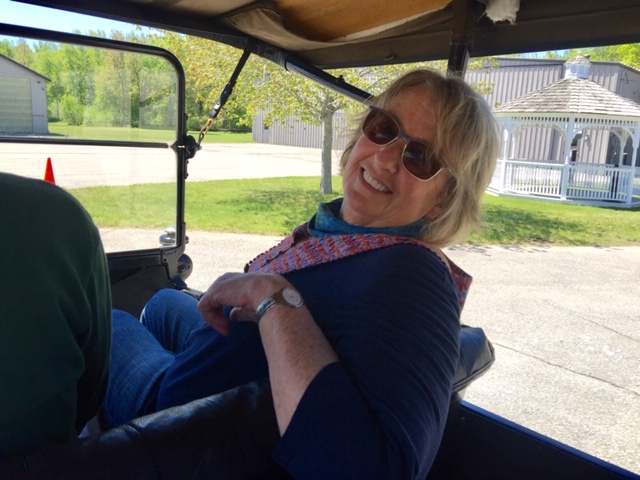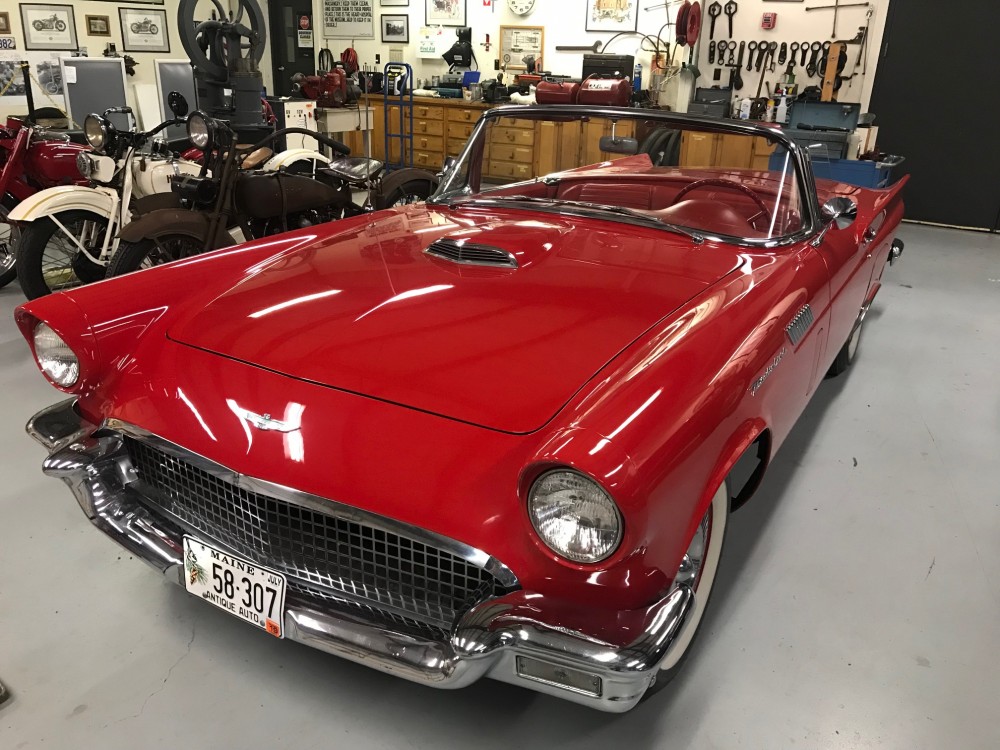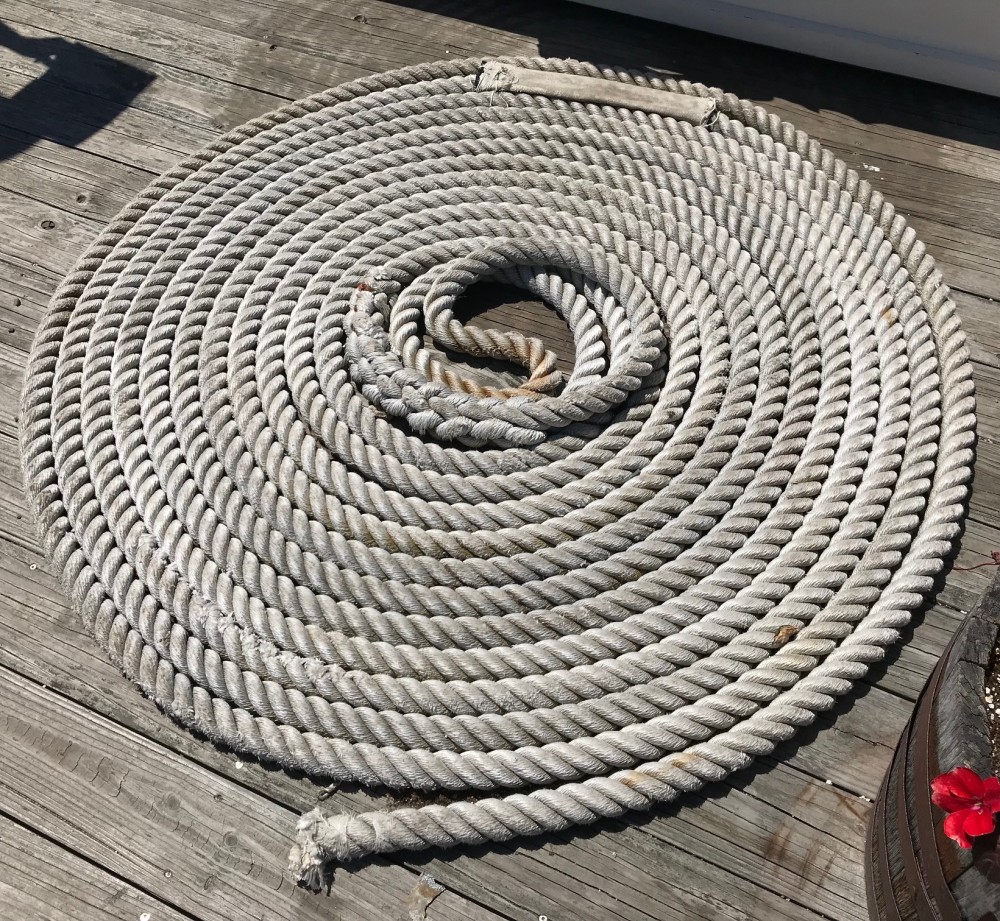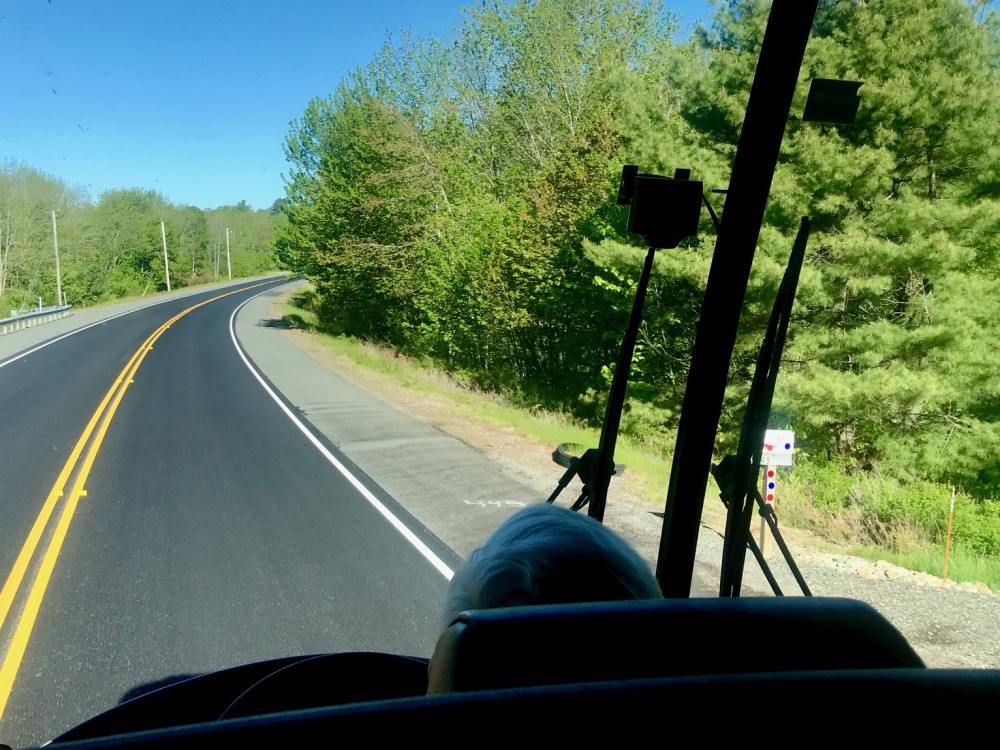 ---
Annual Art Show Review 2019 by Ann Caswell
Close to one hundred Acadia Senior College members and their guests enjoyed the opening reception for our Annual Art Show at Northeast Harbor Library on the evening of May third. The Membership and Volunteers Committee set out a delightful array of hors d'oeuvres and wines. Our site partners were recognized and thanked for making our Island-wide "campus" possible by offering spaces for our classrooms.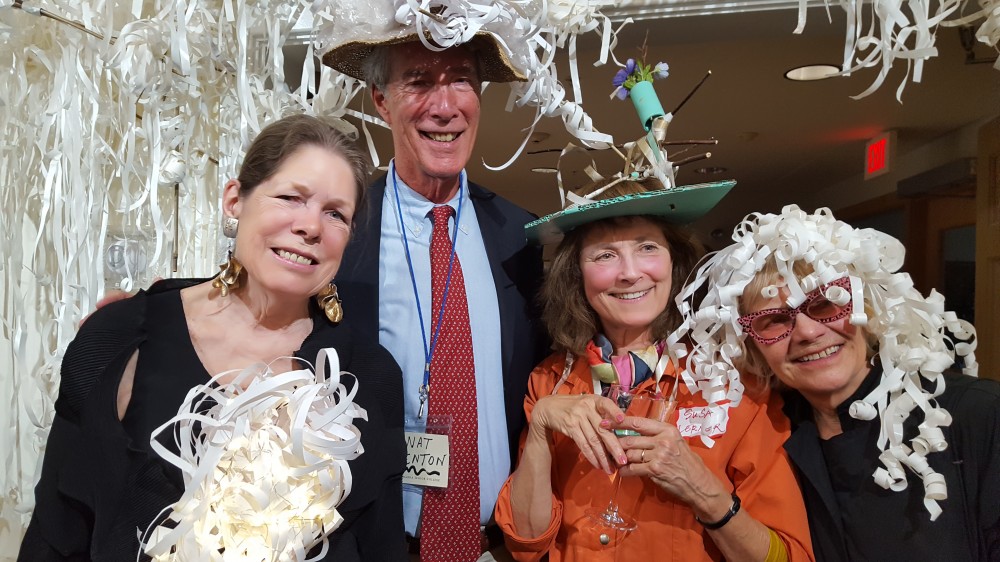 The Art Committee - Sydney Roberts, Susan Lerner, Melita Westerlund, and Noreen Hunter - curated an unusually diverse collection, as well as leading the way with this year's theme: "Conversations." We were welcomed through a bright, flowing, translucent archway fashioned from repurposed half-inch wide plastic strips. These were the remains of projects by
Window Dressers
– a non-profit group that helps Mainers make their homes more fuel-efficient. The Committee stated that they intended the archway to stimulate a "Conversation" about climate change and plastics pollution "that threaten all we hold dear."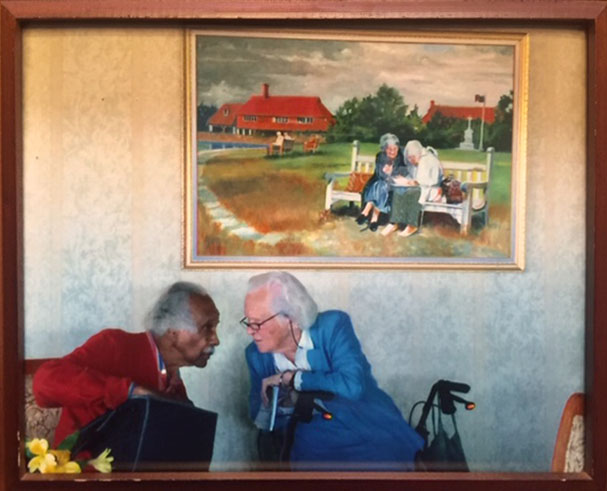 Many of the artists exhibited works that presented the Conversation theme literally, such as Nat Fenton's photograph of Ashley Bryan and Phoebe Milliken conversing under a painting (by the late Phil Steel, a frequent contributor to past ASC Art Shows) of two women seated on a bench, also chatting. Other conversations depicted were Rita Redfield's wood carving of a mother and child, Janice Kenyon's quilted birds saying "Squawk Less, Listen More," and George Soules's inkjet print photo "Can You Hear Me Now," which captured an animated young woman on her cell phone.
Other conversations were more subtle: Margot Haertel displayed work by four generations of her family, communicating through original poems. Lydia Goetze presented two black and white photos of iconic national park scenes – one from Yosemite and one from China, which perhaps said to each other, "Two cultures, one Earth." Melita Westerlund's four heads, each the same, yet each different, sculpted using different materials (such as burdocks in one, lichen in another) invited us to wonder what they might say to each other. And Sydney Roberts's huge piece hanging from the ceiling, also composed of window dressing detritus, glowing from within by tiny wire lights, was titled "Conversation Piece." The day I was there, a young child was asking her mother if it was a jellyfish!
Another implied conversation was a fascinating display of work by seven members of Judith Berger-Gossarts ASC class "Introduction to Hooking." Each class participant had begun with the same outline, a map of Mount Desert Island, and each had designed her own interpretation of this familiar shape. This presentation showed not only what an ASC art class can accomplish, but also invited us to think of what we share in common and what we bring as individuals to a "conversation."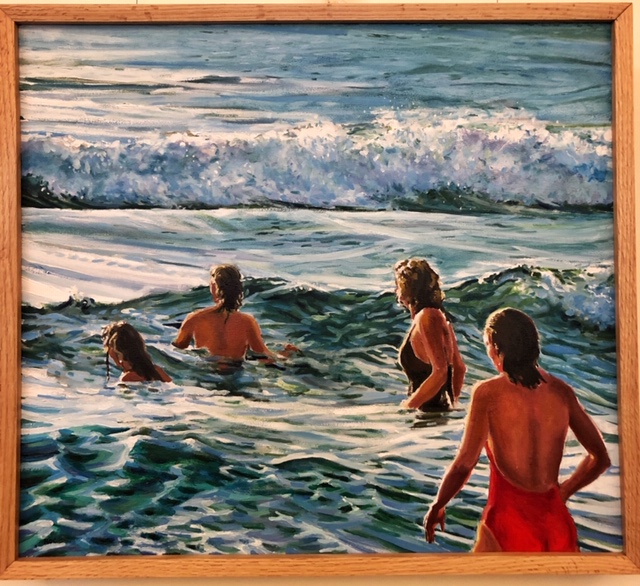 The ASC Art Exhibit was displayed in the Mellon Room of the NEH Library during the month of May. Visitors were able to enjoy these conversations in many different, sometimes surprising, media. These ranged from a large oil painting of bathers at Sand Beach by Roc Caivano to a Tennessee music box fashioned from a clementine box by Wanda Wright. Works included those done as sculpture, photograph, cut glass collage, fabric, oil painting, mixed-media collage, wood carving, papier mache, water color, pen and ink, gelprint, and more.
The College was very proud and excited to exhibit work by those mentioned above as well as from: Lili Andrews, Fred Benson, Judith Bradshaw-Brown, Bonnie Chase, Leza Colquhoun, Laureen Donnelly, Jeff Dunn, Sugar Fenton, Jean Forbes, Carol Friedman, Gabrielle Graham, Paul Haertel, Sharyn Hastings, Sandra Henderson, Noreen Hunter, Janice Janes, Ellen Kappes, Susan Lerner, David Manski, Linda Martin, Nancy McKay, Ellen Pope, Shira Singer, Roberta Sprague, and Curtis Wells.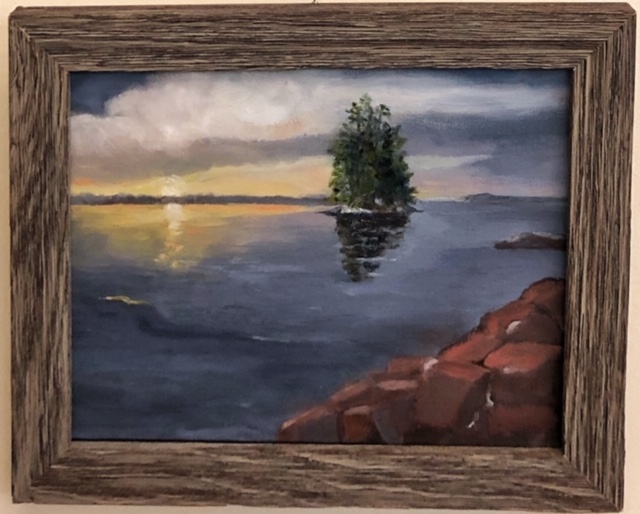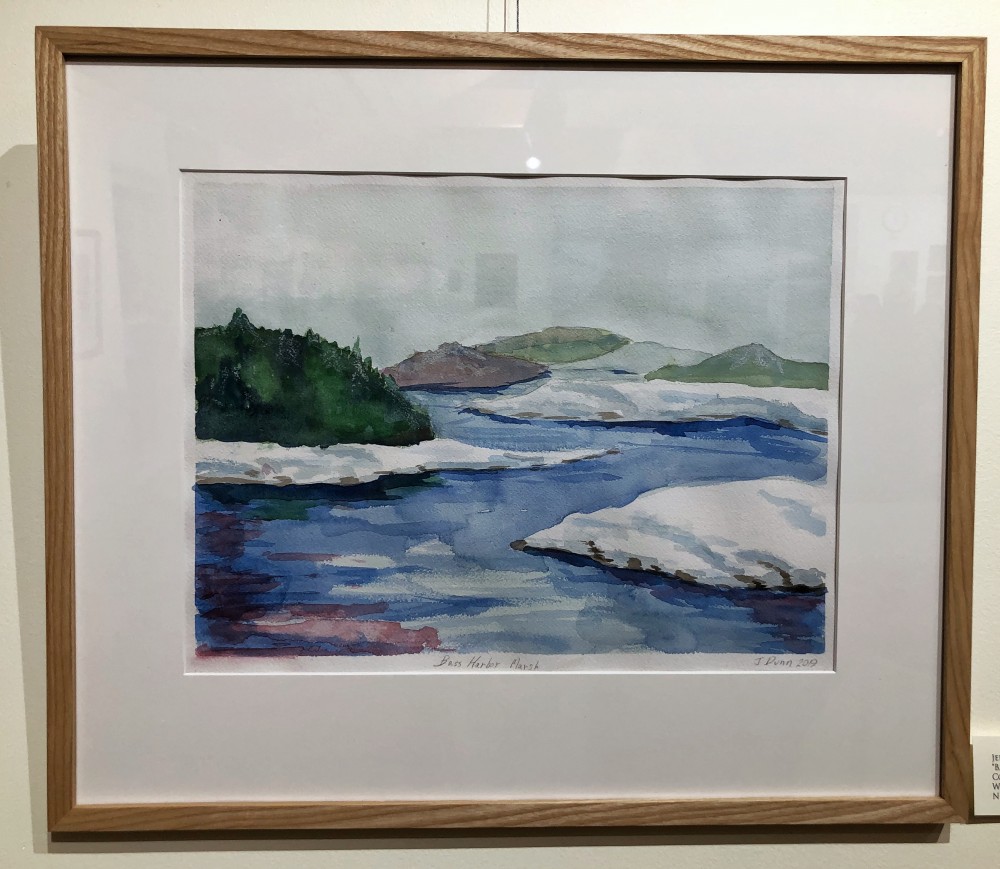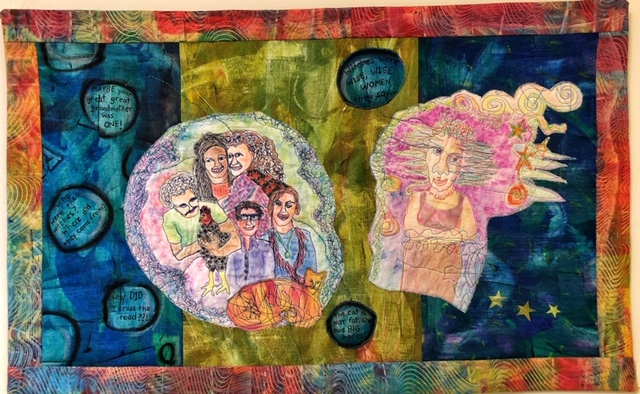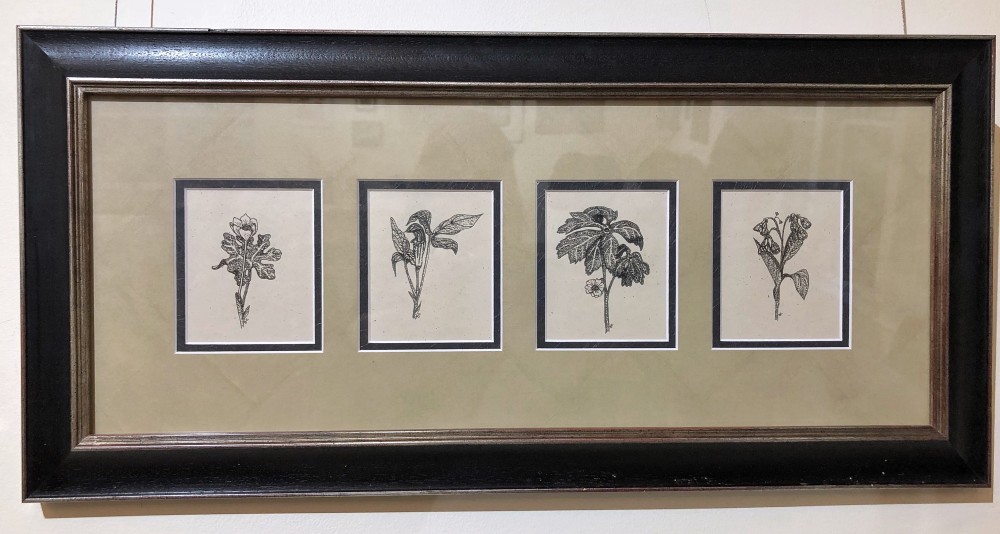 ---
My Senior College Story by Ann Caswell
January 3, 2019
My daughter looked at the green and white brochure and was impressed by the ASC course offerings, but thought my choice was an odd one. She asked why – with all this literature and history – would I choose "Introduction to Mountain Dulcimer?" My response: I didn't have violin lessons when I was a little girl! That was in 2009.
In 2003, my husband David and I bought a house in Seal Cove, next door to one we had rented for seventeen vacations, and began looking forward to the day we could retire here. That day came sooner than we planned, because David suffered a stroke, I retired from teaching to be a caregiver, and decided I'd rather do that here than in Philadelphia.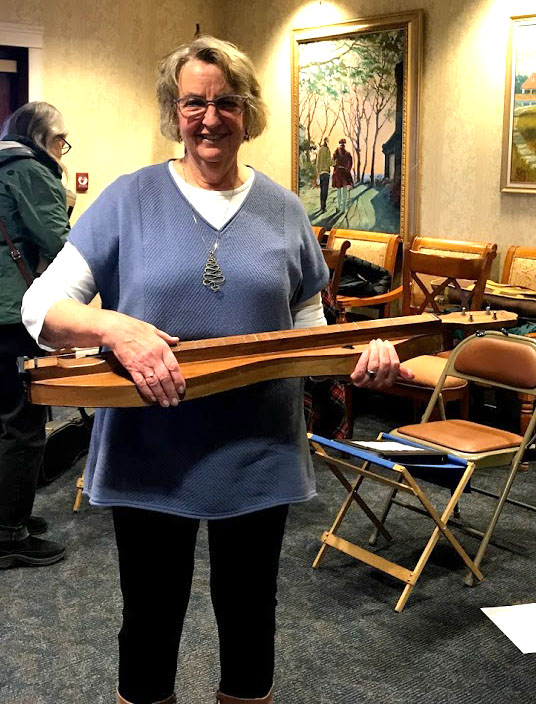 My neighbor, the late Regina Ploucquet, had told me about ASC, given me a brochure ("This is what we do in the winter") and regaled me with stories about the Blueberry Jammers, a dulcimer group that began as an ASC class taught by Ginny Blaney.
The first few months of living here, I was a full-time caregiver. Then I decided to hire somebody for respite care one afternoon a week. It was then that I took my first ASC class, the dulcimer class my friend recommended. At first I was skeptical. I said: How could it be easy? You are a musician. I can't even read music! She told me that dulcimer notation was by and for unschooled mountain folks and consisted of numbers that corresponded to three strings. So I signed up, and was very happy with my first ASC class.
The next year, when my children inquired about my playing, I told them that I would need a "real" dulcimer for that, not just the cardboard one we had used as a learning tool. And for Christmas, they gave me a kit to build one – So I joined the Blueberry Jammers.
My class turned out to be the final one taught by Ginny. She was diagnosed with cancer during that winter, and passed away two years later. The Blueberry Jammers group is part of her legacy. Several of the players come out of Ginny's classes: Wanda is one of her original students, has constructed her own dulcimers, has taught dulcimer herself. Ben is still with the group, which he joined because his wife told him she needed some men in her class. Rita was a classmate of mine, and is one of the musically adept and committed members of the group, which, over the years, has seen participants come and go.
I am not among the musically talented Jammers, nor one who practices diligently, nor have I tackled the more advanced skill of dulcimer "picking." But still I (usually) attend jam sessions twice a month. And in November I love to get out our Christmas music and begin practicing for gigs. We recently played at Birch Bay, also for the bank's holiday open house in Southwest Harbor.
After this delightful introduction, I became more and more involved in ASC, especially after David passed away in 2011. I've taken numerous courses, served on various committees, made food for parties, organized field trips, written articles, taught classes, and served on the Board. My involvement with ASC led to many adventures (trip to Iceland: Thanks, Ben, for the Saga classes!), brought me good friendships, and has been instrumental in helping me shape a new life for myself!
---
Fall Party at the Seal Cove Auto Museum by Ann Caswell
October 31, 2018
On October 26th, nearly 80 ASC members and their guests gathered at the Seal Cove Auto Museum for our Fall Party. This annual celebration has evolved into part Halloween Party, part Oktoberfest, and part Back-to-School Night.
The venue provided an opportunity for ASC folks to browse the Auto Museum's new exhibit on Art, Advertising, and Automobiles. The cars have been moved around for a different "flow" and the exhibit illustrates the history of how the industry has promoted itself over the decades. We read copies of page-long, small type newspaper ads describing a car in detail, watched a video of Dinah Shore singing "See the USA in your Chevrolet," and looked at huge blow-ups of some early color magazine ads. Curator Roberto Rodriguez was on hand to introduce us to these fascinating exhibits.
There was plenty of food and drink to be enjoyed. We had beer from Black Bear Brewery and wines from Sawyer's Specialties. The Membership and Volunteers Committee cooked up brownies, meatballs, spinach balls, quiches, cookies, and our traditional Oktoberfest offering of sauerkraut with kielbasa. Rob Collins' Jazz Quintet did an excellent job filling this huge space with lively music.
The Fall Party was a great way for members to interact. Some were able to chat with classmates in a relaxed setting; others got better acquainted with faculty and Board members. For all, it was an opportunity to just catch up with friends after a busy summer. The gathering certainly hit all the marks of providing stimulation, knowledge, interaction and – fun! Watch this space for information about our winter Cabin Fever Party, coming in February.
---
August 1, 2018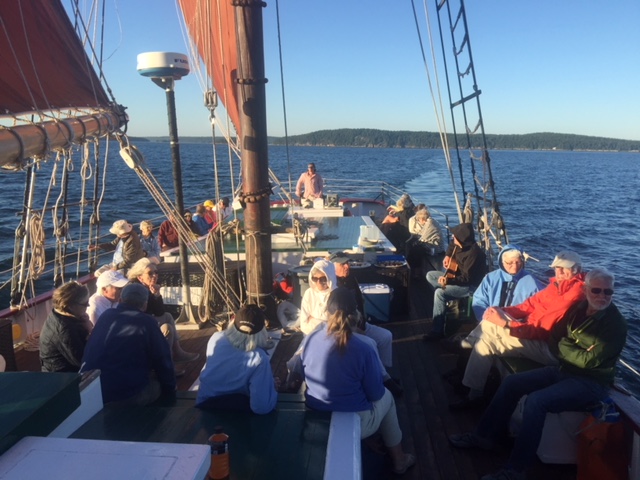 During the second week in July, Acadia Senior College and College of the Atlantic collaborated for the fourth summer on "Best of Acadia," a series of talks which focused this year on higher education and public policy. Over forty ASC members and their guests gathered at Gates Auditorium each morning to hear a fascinating talk and share coffee, conversation, and COA's delicious muffins. Distinguished educators addressed issues such as why art should matter, preparing students to address complex global matters, and re-shaping higher education.
Monday's talk was offered by Darron Collins, President of College of the Atlantic in Bar Harbor, the top-ranked school dedicated to the environment, according to both the Princeton Review and the Sierra Club. Collins, an avid fisherman, cyclist, and hiker, talked about COA's mission of bridging local to global impact with an alternative approach to higher education.
Tuesday morning, participants joined COA's "Coffee and Conversation" series. Filmmaker Olympia Stone and COA's Catherine Clinger showed clips and discussed Stone's latest film about award-winning American sculptor Elizabeth King.
That evening featured the keynote address by David Ellwood, Professor of Political Economy at Harvard's Kennedy School of Government. Ellwood is one of the nation's leading scholars on poverty and welfare and is credited with significantly influencing public policy in the US and abroad. He was recently part of a commission funded by the Bill and Melinda Gates Foundation called The US Partnership on Mobility from Poverty. Composed of experts from various disciplines and experiences, and from across the political spectrum, commission members traveled the country, researching the economic needs of various communities. They concluded that one solution does not fit all circumstances: Some communities need affordable housing, others need decent-paying jobs, still others need an influx of people. Ellwood emphasized the need for Americans to "change the narrative" on poverty and stop "othering" those in challenging economic circumstances. In addition to his work on economics and government, Ellwood chairs the Board of Schoodic Institute and is a summer resident of Winter Harbor. An outdoor reception followed the talk.
Wednesday morning's speaker was William Brennan, President of Maine Maritime Academy. A leading authority on environmental policy relating to oceans, he has served in many government positions, including as head of the National Oceanic and Atmospheric Administration (NOAA). Brennan spoke about how MMA prepares its students for a variety of successful careers, including engineering, management, science, and transportation.
Laurie Lachance, President of Thomas College, spoke on Thursday about "Being Bold in the Wild World of Higher Education." She has served Maine as State Economist under three governors and in 2014 was inducted into the Maine Women's Hall of Fame. She has some radical ideas for re-shaping higher education and says, "I'm just naive enough to think this might work!" First, she put higher education in the context of global pressures and the future of our state. Her talk also included an analysis of economic and demographic challenges faced by all educational institutions. ASC participants found the "leadership lessons" she shared to be very inspiring.
Why Art Should Matter: Deborah Dluhy, Board member of the Maine College of Art, addressed this issue as the "Best of Acadia" program concluded on Friday. She covered a wide variety of issues in arts education, most significantly outlining how education in the arts is education for life. Dluhy is an art historian, arts administrator, and independent arts consultant. She has served as head of the School of the Museum of Fine Arts in Boston and holds a PhD in Fine Arts from Harvard University.
Later on Friday, Best of Acadia participants gathered for a sunset cruise around Frenchman Bay. It was a beautiful, clear, breezy evening, and the two-masted Bailey Louise Todd moved us easily across the waves. A singer, accompanied by guitar, provided entertainment, and some of us were happy to sing along. Drinks and h'ors d'oeuvres were offered as participants socialized and chatted about what they had learned during the week.
---
Penobscot Marine Museum by Ann Caswell
June 20, 2018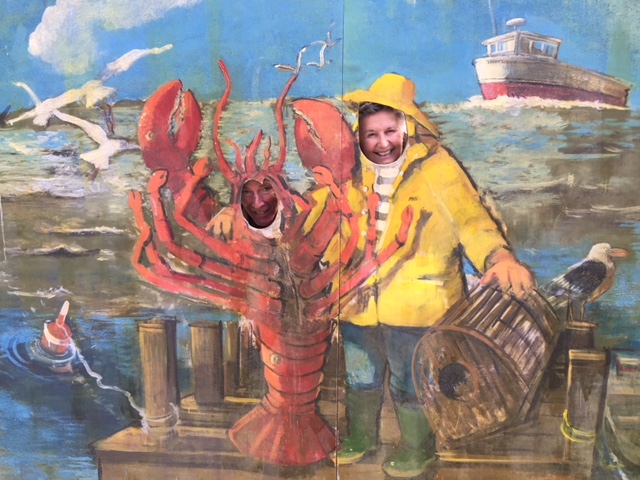 Twenty eight ASC members gathered at the Penobscot Marine Museum on June 10th to spend the morning perusing the fascinating exhibits housed in twelve historic buildings. Docents greeted us at three of the main buildings, including a sea captain's house, and shared some history of the area as well as orienting us to the exhibits.
We were able to see historic maps, scrimshaw, marine paintings, and 19th century Chinese pottery. Some went on to the library, which houses a historic collection of over 200,000 photographs. Others looked at the boat sheds, one of which holds a Rusticators' Collection of hand-build canoes and rowing dinghys.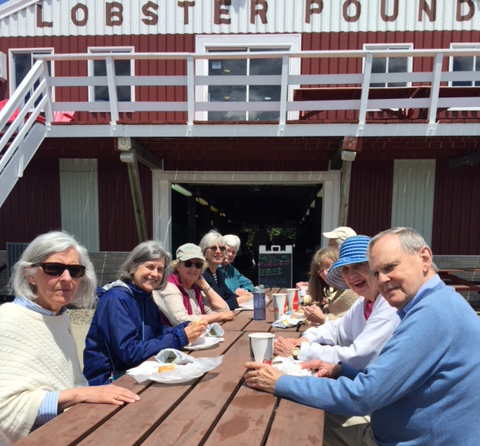 Several of those attending commented that they had passed the Searsport Museum dozens of times, always thinking that they'd make time to stop "someday." Others had visited before and appreciated the opportunity to explore in more depth. Gail Rieber was keeping an eye out for objects she had donated to the Museum, items belonging to her grandfather, who was a 19th century sea captain based in Seal Cove.
It was a beautiful spring day, and most of the group proceeded down the road for lunch at Young's Lobster Pound. We sat out on the pier eating lobster rolls, watching the boats in Belfast Harbor, and discussing the Museum.
---
Minutes of the ASC Annual General Meeting
June 6, 2018
Acadia Senior College President Nat Fenton opened the meeting by stating that the College is in good shape.
38 courses were held in the 2017-18 season, one fewer than the previous season and the same as 2015-16. Total course enrollments were up 10% to 480. Because we now have rolling membership dates, determining current membership numbers is difficult, as the system is in transition.
Our website is proving a worthwhile investment. Most now sign up for courses on line, and Nat reminded members to get on their computers early, as some classes fill almost immediately. Fifteen courses are planned for Fall 2018. Nat encouraged members to consider teaching something they are passionate about, as instruction remains the core of this organization.
Field trips, such as Bangor Symphony in April and the two-day Schoodic Getaway in March, continued to attract participation. A June 11th trip to Penobscot Marine Museum will cap off the season.
"Best of Acadia: Back to College" will be held July 16-20, the fourth such summer collaboration with College of Atlantic. The keynote speaker will be David Elwood of Harvard's Kennedy School of Government. Other speakers will include Darron Collins of COA and William Brennan of Maine Maritime. The week's events will be concluded with a cruise of Frenchman Bay.
ASC social gatherings continue to be appreciated and well-attended. Fall Party at Seal Cove Auto Museum, Cabin Fever at the Dorr Museum, and Art Opening Reception at Northeast Harbor Library were all successfully presented by the Membership and Volunteers Committee.
The Art Committee curated our Members' Art Show which was exhibited during the month of May at the NEH Library, with two dozen artists participating.
The lecture series Food for Thought and the discussion forums of the Peggy Forster Coffee Clash were informative, well-attended, and lively, thanks to the organizing efforts of Jeff Dunn. Nat encouraged members to support these programs by offering speaker and topic ideas to Jeff.
Next Nat named the dozens of individuals who really make this organization work: committee members, office volunteers, Board members, and instructors. He especially acknowledged the contributions of retiring Board member Bill Dohmen who, besides being a founder of ASC, has served in many official capacities, including Treasurer and, currently, Vice-President. He will be returning soon in his role as a literature instructor. Nat also thanked Sandy MacFarland for his work as Secretary of ASC during the last four years. Ruth Rossi Blaney, who is resigning from the Board of Directors, was recognized for her work on that body and with the Membership and Volunteers Committee.
Ward MacKenzie, ASC Treasurer, gave a brief report stating that the ASC's income and investments continue to hold us in good financial shape, with the College expected to finish the fiscal year in the black. He noted that we rarely need to dip into our endowment, and encouraged members and friends to use our online tools to donate to the organization, saving administrative efforts on all sides.
Nat then honored Jude Lamb, who is retiring after eleven years of service as our office administrator. He presented her with several meaningful gifts on behalf of the Board and membership, and offered an original poem that narrated her involvement with ASC.
Nat announced that ASC has contracted with the firm Avantlogic to take up our administrative tasks in the coming year. Janice Kenyon, who has filled in for Jude during her recent leave of absence, will be taking on that role and also evaluating what administrative requirements ASC has going forward.
Next, Jim Clunan, chair of the Nominating Committee, introduced a slate of candidates. For the Board, he placed in nomination Kathleen McQuaid, who retired here after a career in Pennsylvania as a professor of political science. Andy Cline, a retired math teacher and coach, was nominated to the Board and as Treasurer of the organization. Linda Dunn and Ann Caswell, currently Board members, were nominated as vice president and secretary, respectively. All nominations were unanimously approved by the members present.
The Annual Meeting was adjourned in time for the potluck dinner.
---
Art Show 2018: Reflection by Ann Caswell
May 23, 2018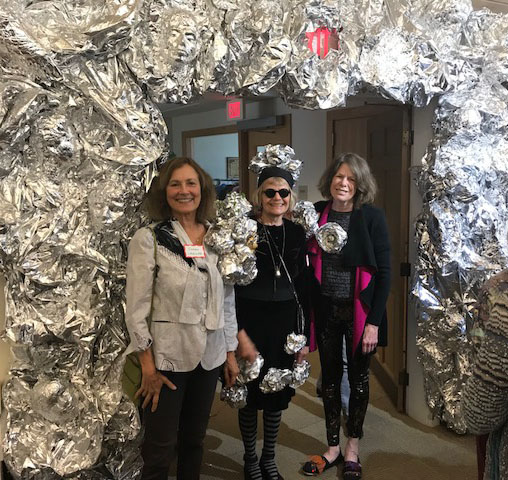 The tenth annual Acadia Senior College Art Show opened May 4th at Northeast Harbor Library with nearly 100 members, friends, and honored guests attending the reception. The show, themed "Reflection," showcases the creative talent of ASC members in several media, including oil, watercolor, photography, sculpture, pastel, and fabric.
A delicious array of hors d'oeuvres – from shrimp to nuts, set among spring blossoms – was provided by the Membership and Volunteers Committee. Ben and Eric stayed busy pouring beer (donated by Black Bear Brewery) and wine for the gregarious gathering. ASC President Nat Fenton welcomed several of our site partners and presented them with small honoraria to thank them for all they provide for our organization. In particular, we are appreciative to Camden National Bank for helping us fund this reception.
ASC Art Committee members Sydney Roberts, Susan Lerner, and Melita Westerlund created the sparkling arch "Reflection," through which we all passed to enter the exhibit. This year's archway was formed by molding silvery material around bits of marble, bronze and plastic sculptures. As a result, shapes of hands, feet, and faces – you might recognize Tennyson or Washington, for example – can be discerned, adding texture, lightness and mobility to the arch. And the foil-like fabric? Last October, Sydney retrieved dozens of used "survival blankets" from the finish line of the MDI Marathon, knowing that one day, they would find a new life and use. The artists who created the arch state:
By reflecting on the present, recycling materials, and incorporating images embodying integrity and hope, this arch symbolizes the passage from surviving current challenges toward creating a peaceful, vibrant future for the world.
The ASC artists who contributed to the exhibit explore the concept of "Reflection" in many different ways. Beyond the arch are additional sculptures made of survival blankets. For example, Susan Lerner's "Shelter from the Storm" is a silvery tent, inviting the observer to imagine entering this welcoming space for meditation and reflection. With its balsam topper, wind chimes, and field guide to wildflowers, it might seem like a symbol for this Island – a place of such peace and beauty so close to our world of chaos and conflict.
Other artists presented photographs and paintings of familiar Acadian scenery. Several images of lakes and coves depict literal reflections, such as Gabrielle Graham's "Serene Afternoon on Seal Cove Pond," with autumnal trees mirrored in the still water. George Soules's photograph of MDI from Great Cranberry is taken looking through a window which both admits and reflects light from the beach, the harbor, the mountains, and the sky. Jean Forbes's water color landscape "Early Summer," presents us with a garden path leading to the water's edge; a glimpse of a wooden bench at the path's end invites the viewer to imagine sitting there quietly, watching the water, reflecting.
Several other pieces ask the viewer to find the theme of "Reflection" ourselves. In Janice Kenyon's fabric composition "Star Travel," a tiny beaded figure perches almost unnoticed at the edge of brightly colored suns, moons, and stars against the black background of deep space. Might this make one reflect on the significance of a human life in an infinite universe? Larry Zellner's striking "Me," in black and white pastels, depicts the artist looking himself straight in the eye. Can the viewer look at this and not wonder what he sees in himself? What we each see when we look in the mirror?
"Reflection" continues through May at the Northeast Harbor Library. Contributing artists not mentioned above are: Jerry Vasisko, Ellen Kappes, Anne Wetzel, Robert Pennington, Paul Haertel, Margot Haertel, Lydia Goetze, Marion Smith, Laureen Donelly, Roberta Sprague, Elizabeth Sherblom, Dianna Emory, Jean Perkins, Vittoria McIllenny, Billie Mitchell, Norman Talbot, Steve Perrin.
---
2108 Coffee Clash Review by Ann Caswell
May 7, 2018
ASC has just completed another exciting and successful season of our longstanding Coffee Clash program, held twice a month during the winter at Sips restaurant in Southwest Harbor. Sometimes people feel compelled to "correct" the spelling, but the program title is a pun, designed by its founder, the late Peggy Forster, as a forum for civil debate about current issues (over coffee and breakfast, of course).
Over the years, the CC had become more and more structured -- a speaker with presentation, followed by Q & A from members. But this year the Events Committee and Jeff Dunn, our CC coordinator, have taken the program back to its original concept. Instead of sitting in one big circle, we sat in clusters at the tables and at the bar. Our featured experts each gave a short presentation introducing the topic and then moderated the conversation as members expressed their views and responded to one another.
In this year's program, we often featured the passion and knowledge of our own members, although we did invite some speakers from outside the organization. The breadth and depth of expertise among our own members and faculty is impressive and was much in evidence at the Coffee Clashes.
In January, Nat Fenton, ASC instructor as well as President, raised with us the topic of Confederate Statues and what should be done with them. He discussed these statues in their historical context, at the height of the Jim Crow Era, and regards them as assertions of white supremacy. Responses from members were varied as a lively conversation ensued: Leave the statues in place because of history, or because they are art, take them away forever, leave them in place with an anti-racist explanation, leave them in place -- but balance them with statues of anti-slavery and civil rights heroes, move them to less prominent locations . . . The clash was full of thoughtful and often passionate opinions, agreements and disagreements, enjoyed over coffee and pastries in a congenial gathering. Most members left with a clearer understanding of their own and others' views.
Coffee Clash was the venue for similar controversial and engaging discussions as the winter continued. Bill Dohmen, with a career in banking and now an ASC literature instructor, talked to us about income inequality. He traced the trends in the widening gap between the top wealthy few and the rest of Americans over the last decades, enumerating its causes and effects. Then members discussed possible solutions, including major tax reform, protections for workers and consumers, getting money out of politics, controlling Wall Street, and reversing the current course in Washington in the upcoming elections.
Another ASC member/presenter was Fred Benson, whose career in the military was followed by work at the White House. Fred discussed the responsibility of the military, especially when the Commander-in-Chief might give ill-conceived and dangerous orders. Is the military loyal to the president or to the Constitution? Historical examples such as the My Lai massacre in Vietnam were discussed as were concerns about our current situation.
Linda Dunn, ASC Board member and instructor, a retired fetal medicine physician, led a conversation about abortion. She presented facts and figures about recent trends to restrict a woman's right to choose abortion in various parts of the country. Most everyone present believed that women must be responsible for their own reproductive health decisions. But there were many opinions about how to defend these rights, and what restrictions might be reasonable or desirable.
Seth Singleton's talk called "Trump Is Good for Us" filled within hours of being posted on the ASC website and was an energetic conclusion to the Coffee Clash season. Seth is a professor of International Relations at UMaine and gives popular courses on such topics for ASC. His presentation touched on the tendencies toward authoritarianism in Russia, Europe, and at home. Such factors as Trump's vilification of the press and denigration of the Judiciary were highlighted as danger signs for America. And although none of the "red lines" indicating a move to fascism have been crossed, he called for awareness and vigilance. Members expressed their own concerns and fears, offering solutions that ranged from talking to neighbors to abolishing the Electoral College.
In addition to our in-house experts, Coffee Clash hosted talks by invited guests as well. Moira O'Neill, nurse-educator and political activist, spoke about our precarious health care system and told about the aims of Maine Allcare, an organization devoted to establishing a single payer system in our state. Members discussed the pros and cons of solutions such as universal, single payer, and National healthcare systems. Our other invited guest was Ann Luther of the League of Women Voters, who spoke to us about the role of money in our political system. Members talked about the roles of PACs, Citizens United, freedom of speech and media issues. There were lots of ideas about how to return control of the political process to citizens.
When Peggy Forster passed away last summer, ASC renamed her most beloved project The Peggy Forster Coffee Clash. She would have been excited and proud to observe the tables at Sips crowded and the air filled with lively conversation on cold winter mornings.
---
Schoodic Getaway 2018 Acadia Senior College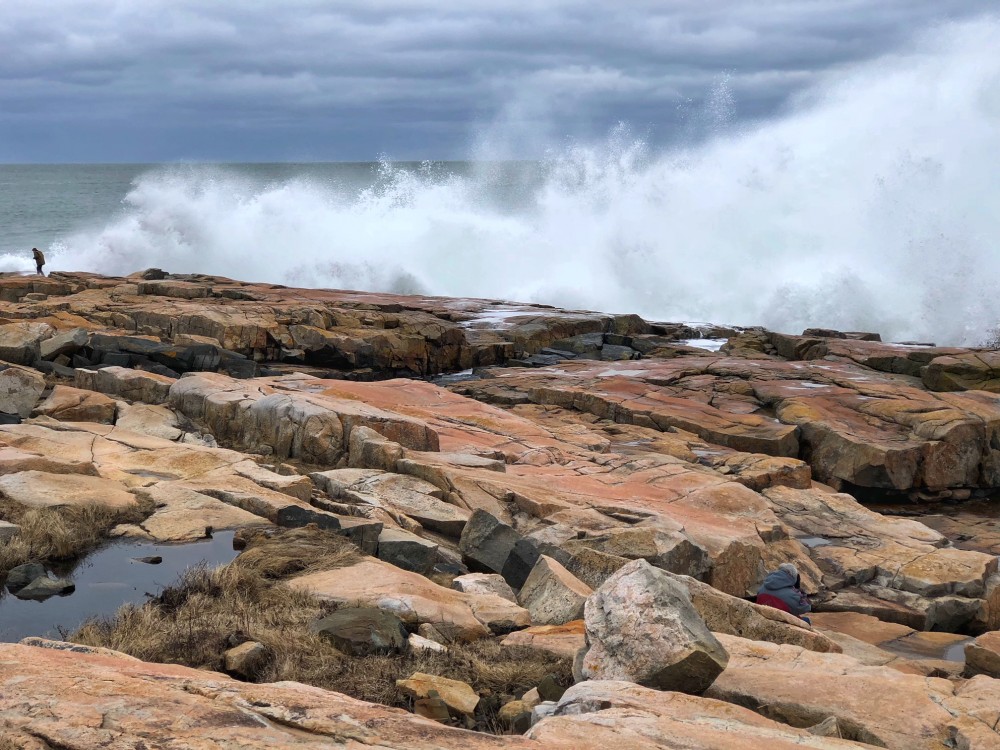 On March 4th, ASC members gathered at Schoodic Education and Research Center for our third annual Schoodic Getaway. After a hearty and tasty lunch, we headed out on a guided photography walk.
Photographer Bob Thayer had been hoping for some snow, so we could hone our winter camera skills, but the ground was bare. Still, the weather here on the Maine coast always has some surprises in store – and we were greeted at Schoodic Point with unexpectedly big surf. The March 2nd nor'easter lingered out at sea, generating rollers that crashed into the granite ledges, sending huge plumes into the air. Mesmerized, we took shot after shot with cameras and phones, as Bob continued to give us pointers. Everyone braved the chilly wind to see if the next wave might yield an even greater spectacle than the last.
Next it was time to warm up at Schooner Commons, a beautiful building on the SERC campus, where we were fortunate to have the ballroom, complete with roaring fire, as our gathering space. Scott Worcester (Sawyer's Specialties) and Bob Bartlett (Bartlett's Winery) offered us an array of Bartlett's local wines to taste, including dry pear, rich blueberry, and sweet berry dessert wines. Our wine and cheese hour was a great way to warm up and socialize.
After lobster stew, New England boiled dinner, and ice cream sundae bar, we headed out to Moore Auditorium, where we enjoyed "The Secret of Roan Inish." The main character of this lovely film, set on the coast of Ireland, is a young girl who discovers more than the family secret (that they have seals in their ancestry), as she prods them to resettle their island home. Cloudy skies precluded our planned stargazing session, but many of us stayed up late anyway, watching the Oscars with our suitemates.
By Monday morning, most of the clouds had cleared, and we set off with Schoodic Institute ornithologist Seth Benz to look for sea birds. The still-rough seas and unrelenting wind kept the birds hunkered down, but we still saw many species, including strikingly-feathered Harlequin ducks.
Lunch was a hands-on experience: Retired Ranger Ed Pontbriand and friends led us through all the steps as we filled eight cast iron Dutch ovens and tended them with glowing coals. The March sun offered some welcome warmth, as did the big fire burning by the Picnic Pavillion. We were even entertained by some historic logging camp music as we enjoyed our black-bean-enchilada, sausage- lasagna, and broccoli-cheese casseroles, along with biscuits, and finished up with apple-rhubarb crisp and pineapple upside-down cake, all cooked outside in Dutch ovens.
Some ASC members attended this event for the first time, others were returning for a second year, and a few had been all three times. Driving home, our carload agreed it was great to get away to a remote location, learn what's going on at SERC, and enjoy each other's company. The Schoodic Getaway surely embodied our ASC motto: Stimulation, Knowledge, Interaction, and Fun!
---
World War I and America – A Series of Exploration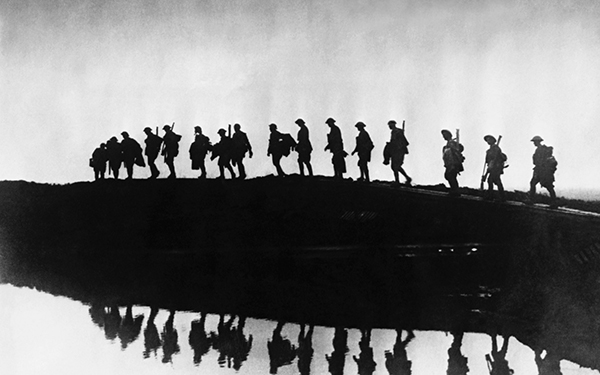 Join the Jesup Memorial Library, Acadia Senior College, and the George Edwin Kirk American Legion Post 25 for "World War I and America," a series of eight programs in early 2018 about the first World War and its effects on America and our local MDI community. Also, from January through March, stop by the Jesup to see artifacts and documents pertaining to World War and other wars, donated for display by the George Edwin Kirk American Legion Post, and members of the MDI community.
This is all part of "World War I and America," a two-year national initiative of the Library of America presented in partnership with The Gilder Lehrman Institute of American History, the National World War I Museum and Memorial, and other organizations with generous support from The National Endowment for the Humanities. For more information on any of the programs in this series contact Melinda Rice, Program Director at the Jesup Memorial Library, at mrice@jesuplibrary.org or at 207- 288-4245.
All programs are at the Jesup Memorial Library and are free to attend, though some do require advance registration.
Mon. Jan. 8 from 9:30 to 11:30 a.m.
Facilitated discussion with Dr. Libby Bischof
Dr. Bischof, an associate professor of history and the chair of the Department of History and Political Science at the University of Southern Maine, will moderate an in-depth discussion,
springboarding from assigned readings. Dr. Bischof is a 19th-century American cultural historian. The event is free and open to the public but registration is required. To register contact Melinda Rice at mrice@jesuplibrary.org or at 207-288-4245.
Sat., Jan. 13 at 1 p.m.
"George Kirk and Bar Harbor in World War I" with the George Edwin Kirk American Legion Post 25
Members of the Post will share the story of George Kirk, his life and World War I service, and how he came to be the namesake of Bar Harbor's American Legion post. George was a 1912 graduate of Bar Harbor High School and died at a field hospital in Europe in 1918. There will be some WWI-era documents and artifacts on display.
Thurs., Feb 1 at 7 p.m.
Film Screening: "War Horse"
Join us for a community screening of the Academy Award-nominated film "War Horse," set during World War I and directed by Steven Spielberg. In the film, a British teen named Albert raises and trains a horse, Joey, but at the outbreak of World War I, Albert's father sells the horse to the British cavalry. Against the backdrop of the Great War, Joey begins an odyssey full of danger, joy and sorrow, and he transforms everyone he meets along the way. Meanwhile Albert, unable to forget his equine friend, searches the battlefields of France to find Joey and bring him home.
Sat., Feb. 12 at 1 p.m.
"World War II: Exploring Local Connections" with the George Edwin Kirk American Legion Post 25
Join a panel of speakers including those who served in WWII and learn more about the experiences of MDI residents during WWII.
Sat., March 10 at 1 p.m.
"The Wars in Korea, Vietnam, and Beyond: Exploring Local Connections" with George Edwin Kirk American Legion Post 25
Join a panel of speakers including those who served in Korea, Vietnam and subsequent wars and learn more about the experiences of MDI residents who served in them.
Mon., March 12 at 9:30 a.m.
Facilitated Discussion with Dr. Donald Zillman
Join Dr. Zillman for a facilitated discussion about the American experience during World War I, based on "Living the World War," which delves into experiences of American citizens during the war and explores how the experience of war and emerging national issues profoundly shaped America in the 21st century. Dr. Zillman is the Edward Godfrey Professor of Law at the University of Maine School of Law. He has worked as professor and dean at several law schools in addition to serving an Army Judge Advocate, and as a visiting professor at the U.S. Military Academy at West Point and the University of Southampton in the United Kingdom. He will give an author talk the same day at 7 p.m. The event is free and open to the public but registration is required. To register contact Melinda Rice at mrice@jesuplibrary.org or at 207-288-4245.
Mon., March 12 at 7 p.m.
Author Talk and Book Signing: Dr. Donald Zillman, "Living the World War: A Weekly Exploration of the American Experience in World War"
Join Dr. Zillman as he talks about his comprehensive book "Living the World War." Using the Congressional Record and the New York Times, "Living the World War" explores the experiences of American citizens during the war in days before mass communications, when the people at home did not know what was happening overseas in real time. The book also explores how the experience of war and emerging national issues profoundly shaped America in the 21st century. Dr. Zillman is the Edward Godfrey Professor of Law at the University of Maine School of Law. In his career he served as an Army Judge Advocate, and a professor of law at Arizona State University and the University of Utah before coming to Maine as the dean of the University of Maine Law School. He also served as the president of the University of Maine at Presque Isle and as a visiting professor at the U.S. Military Academy at West Point and the University of Southampton in the United Kingdom.
Thurs., March 29 at 7 p.m.
"The Maine Homefront in WWI" with Earle Shettleworth
Join Maine State Historian Earle G. Shettleworth, Jr. to learn more about Maine's role in WWI both at home and
abroad. This illustrated lecture documents the role played by Maine men and women in World War I, especially here at home. Thirty-five thousand men and women from across the state joined the military in 1917 and 1918 to fight in a "war to end all wars" that promised to "make the world safe for democracy." Maine civilians supported the war by purchasing $118.4 million in government bonds and $8.4 million in war savings stamps. Private sector relief programs operated by the American Red Cross, YMCA, YWCA, and the Salvation Army also received generous contributions from the public. Newly unearthed historic photographs, many of them real photo postcards of the era, tell the story of recruitment, troop departures, parades, bond drives, shipbuilding, war-related industries and knitting socks for the soldiers. This chapter in Maine's past comes alive in these century old pictures.
Poster listing all events in this series, click here!