ASC Fall Party at Seal Cove Auto Museum, 2017
By Ann Caswell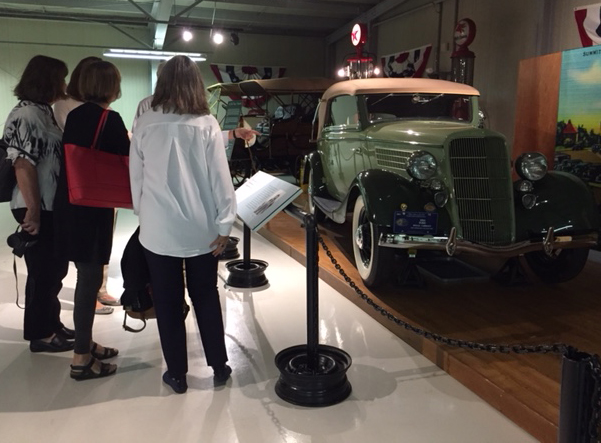 Nearly one hundred ASC members and their guests browsed the exhibits of Brass Era automobiles as they reconnected with friends and classmates after a busy summer.
The Auto Museum Fall Party has become a popular tradition for ASC. Members were able to visit with friends and neighbors, chat with instructors, and connect with classmates in a less structured setting. The Membership and Volunteers Committee served up excellent refreshments such as cheese platter, homemade cookies, and kielbasa with saurkraut. Accompanying beverages were wines from Sawyer's Specialties, beer from Black Bear Brewery, and hot mulled cider.
The world class collection of Brass Era automobiles provided a fascinating venue for the party. Seal Cove Auto Museum Director, Raney Bench, was on hand to talk to people about the museum, the vehicles, and plans for the upcoming exhibits to be installed by spring. Music was provided by the Rob Collins Jazz Quintet. The jazz gave a festive ambiance to the evening, and many people gathered near the band to watch and listen more closely to their performance.
ASC President Nat Fenton gave a brief talk, welcoming all who attended and thanking the M&V Committee, the band, and the Auto Museum. He also encouraged ASC members to be sure they had set up their on-line accounts. Our attractive new website gives members quick and useful access to plenty of information – from course registrations to feedback, from upcoming events to instructors' manuals, and much more. It will also save time for our busy administrator!
It was a beautiful October evening as the light faded from Seal Cove Pond and Mt. Bernard. Watch This Space to learn about ASC's next social event – our mid-winter Cabin Fever Party.