ASC / COA Collaborative 2017
By Ann Caswell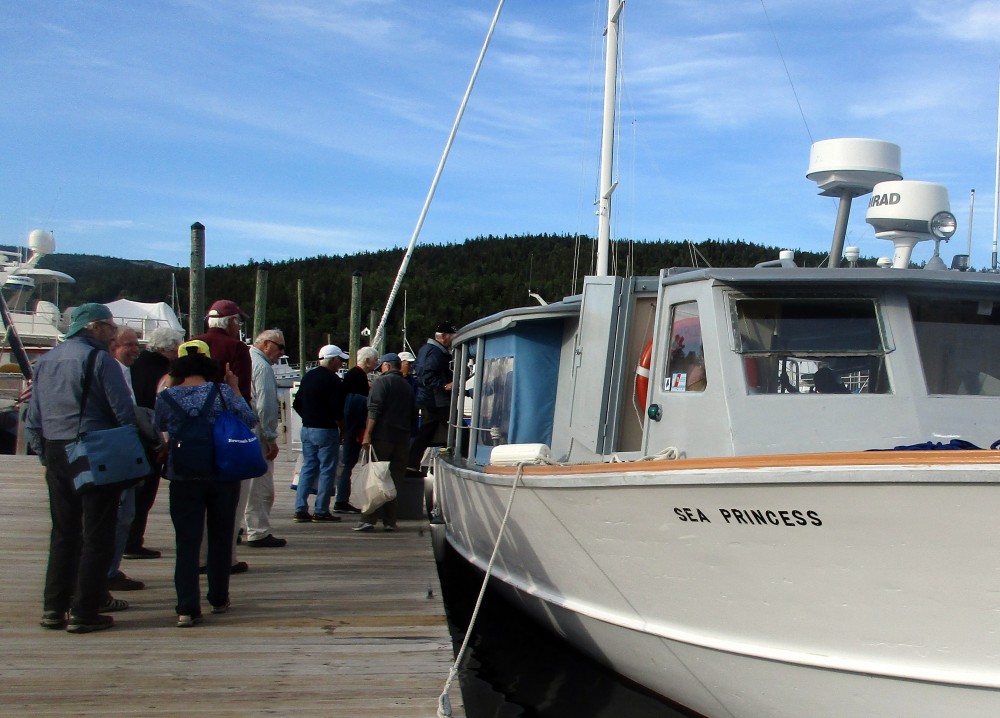 During the week of July 10th, about fifty ASC members and friends gathered each morning at COA's Gates Center for a series of informative and inspiring talks about many aspects of our beloved state of Maine.
On Monday, Rodney Eason, of the Land and Garden Preserve, told us about the history of these public properties in Northeast Harbor. We learned about the Thuya and Asticou Gardens and also about the Preserve's plans for the generous new bequest of acreage around Little Long Pond. That land was given by the late David Rockefeller on the occasion of his 100th birthday. Anyone unfamiliar with the work of the Land and Garden Preserve came to appreciate it's role in the tapestry of public lands that are woven throughout our Island.
COA's Coffee and Conversation on Tuesday featured Ann Luther of the League of Women Voters along with COA faculty member Jamie McKown, professor of government and polity. During that lively discussion, we became more informed about the challenges facing the governance of Maine.
Wednesday brought us Dr. David Yarborough, University of Maine professor and one of the world's foremost experts on wild blueberries. He told us how retreating glaciers scraped the rock and left ground where our wild blueberries have thrived for millennia. Packed with antioxidants and delicious sweet-tart juiciness, these iconic fruits cannot be cultivated, only tended and protected.
Natalie Springuel, of the Sea Grant Marine Extension, captivated us with the story of Maine's fisheries, focusing on MDI. In a presentation filled with historic pictures, she traced the history of this most important industry of the Maine coast. Learning about the history of cod, from its heyday in Colonial times to its demise a few decades ago, made us acutely aware of how important it is to care for this most precious resource, the Gulf of Maine. Meanwhile, the lobster industry continues to thrive, due to consistent sustainability measures and lack of predators. In this age of ocean pollution and warming waters, it is critical that research such as that done through Sea Grant (a branch of NOAA) continue. Those attending were dismayed to hear that the proposed Federal budget zeroes out this important program.
All of us who are fortunate to live here on MDI ask each other about the effect of increased tourism on our community: How much is too much? This was the topic of the panel discussion on Friday of this week of stimulating talks. Islander editor Earl Brechlin moderated the lively conversation. Alison Bean, of Island Housing Trust, advocated for the important work they are doing to make housing affordable for people who work full-time here and wish to live here as well. Acadia National Park planning professional John Kelly discussed the challenges of accommodating ever-increasing visitations. Representatives of the business community, Dick Cough (Bar Harbor Parking Solutions), Eben Salvatore (Cruise Ship Committee), and Martha Searchfield (Chamber of Commerce) offered the perspective that MDI can well sustain what sometimes seems an overwhelming wave of tourism.
Along with these intriguing morning talks, expertly organized and coordinated by COA's Laura Johnson, were two featured evening programs. On Monday, Lucas St. Clair gave a wonderful talk about the Katahdin Woods and Waters National Monument adjacent to Baxter State Park. We learned about the dream his mother Roxanne Quimby had to preserve a portion of the North Woods for future generations. From dream to reality, the road was not easy or straight forward. St Clair, himself a sportsman and guide, was able to bring the process to fruition – Barak Obama granted National Monument status to the Woods and Waters area last summer on the 100th anniversary of the National Park Service. Paul LePage has implored the Trump administration to return the land to private ownership, but St. Clair was optimistic that this would never happen. ASC members were so intrigued that we are looking into a field trip to the area this coming fall.
A fitting finale to the week was a narrated tour of the Great Harbor aboard the Sea Princess. Enjoying drinks and hors d'oeuvres, we heard stories of the towns and boats and harbors from Northeast to Southwest, told by ASC member Charlie Richardson. We were able to visit with each other, siting eagles and ospreys as the sun set over Acadia Mountain.
"I'm so glad we did this," one ASC member stated. "I learned something new every day!"