ASC Schoodic Getaway 2017
By Ann Caswell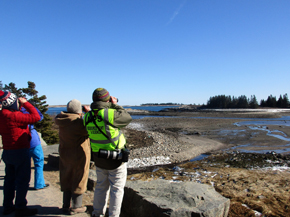 In early March, nineteen ASC members bundled up to enjoy two days of outdoor activities and sunny skies at Schoodic Education and Research Center. Billed as a "getaway," the outing definitely delivered as promised. We didn't go very far, but we certainly felt like we were away from everyday routine and stresse. As well as learning from the Schoodic Institute experts, we had a chance to connect with friends, meet new ones, and share some excellent wine and food in front of roaring fires.
Upon our arrival, we introduced ourselves over a selection of soups, and then set off for Schoodic Woods, the new section of the Park, where we met with Forest Ecology Director Nick Fisichelli. The wind chills felt as predicted – below zero in the gusts – but Nick kept us moving through the woods along the new carriage roads. He told us about his work studying the regrowth of forest, the effects of climate change, his efforts to involve students and citizen scientists. We saw where moose had recently munched a birch tree snack and where old logging roads were returning to forest.
ASC instructor and owner of Sawyer's Specialties in Southwest Harbor, Scott Worcester was on hand when we arrived back at Schooner Commons to warm up in front of the fireplace. He and Bob Bartlett, of Bartlett's Winery in nearby Gouldsboro, poured and told us about several of the wines Bob has crafted from local fruits, including blueberry, apple, and pear. We were fortunate to have in our group Jim Vekasi, who, as Chief of Maintenance of ANP (now retired), oversaw much of the conversion of this facility from the military to the Park Service. His informal talk made us more aware and appreciative of the success story of SERC. This wine and cheese hour was a great opportunity to interact before dinner was served.
A frigid but completely clear night sky opened up above us down at Schoodic Point, where amateur star-lover Ann Caswell was able to point out Venus, Mars, the circumpolar constellations, and the spectacular winter hexagon. We learned that Sirius, the brightest star in the sky, is only 8 light years away, while Rigel, in Orion, is seen by us as light which left that star during the time of Christopher Columbus. Before dashing back to our cars, we were happy to observe the rising of Leo the Lion, a spring constellation promising warmer days to come.
Back at SERC, we had the beautiful Moore Auditorium to ourselves, where we watched "The Big Year," a comedy that pokes gentle fun at birders. The film also showcases some gorgeous scenery as Jack Black, Steve Martin, and Owen Wilson race all over the country trying to outdo each other sighting species.
After breakfast on Monday, the nineteen of us pitched in to prepare a multi-course lunch – all cooked with wood and charcoal at the SERC picnic pavilion. Retired NPS Ranger Ed Prontbriand and his twin brother Dan were somehow able to direct us in our efforts to cook up a feast using cast iron Dutch ovens. After a couple of hours of juggling hot coals and pot tops, we were able to chow down on lasagna, chicken and potato casserole, egg casserole, biscuits, blueberry crumble, and brownies. Yes, we made all that and managed to eat it too.
Next and last was our birding trip with Bird Ecology Director Seth Benz. As we walked from Rockefeller Hall to Arey Cove and on to Blueberry Hill, we noticed the wind had finally moderated. Seth and several of our own astute observers were able to point out 15 species of winter birds and 81 individuals. These included great cormorants, buffleheads, grebes, eiders, eagles, and, perched on a dead tree on Schoodic Island, a rough-legged hawk. Seth even knew that the Jack Black character in our movie was based on a real person who often comes birding in Acadia!
If Acadia Senior College hopes to provide Learning, Interaction, Stimulation and Fun, this Getaway certainly fit the bill. Participant Ruth Rossi Blaney echoed the thoughts of many when she said, "If ASC plans another Getaway, count us in!"