2108 Coffee Clash Review by Ann Caswell
May 7, 2018
ASC has just completed another exciting and successful season of our longstanding Coffee Clash program, held twice a month during the winter at Sips restaurant in Southwest Harbor. Sometimes people feel compelled to "correct" the spelling, but the program title is a pun, designed by its founder, the late Peggy Forster, as a forum for civil debate about current issues (over coffee and breakfast, of course).
Over the years, the CC had become more and more structured -- a speaker with presentation, followed by Q & A from members. But this year the Events Committee and Jeff Dunn, our CC coordinator, have taken the program back to its original concept. Instead of sitting in one big circle, we sat in clusters at the tables and at the bar. Our featured experts each gave a short presentation introducing the topic and then moderated the conversation as members expressed their views and responded to one another.
In this year's program, we often featured the passion and knowledge of our own members, although we did invite some speakers from outside the organization. The breadth and depth of expertise among our own members and faculty is impressive and was much in evidence at the Coffee Clashes.
In January, Nat Fenton, ASC instructor as well as President, raised with us the topic of Confederate Statues and what should be done with them. He discussed these statues in their historical context, at the height of the Jim Crow Era, and regards them as assertions of white supremacy. Responses from members were varied as a lively conversation ensued: Leave the statues in place because of history, or because they are art, take them away forever, leave them in place with an anti-racist explanation, leave them in place -- but balance them with statues of anti-slavery and civil rights heroes, move them to less prominent locations . . . The clash was full of thoughtful and often passionate opinions, agreements and disagreements, enjoyed over coffee and pastries in a congenial gathering. Most members left with a clearer understanding of their own and others' views.
Coffee Clash was the venue for similar controversial and engaging discussions as the winter continued. Bill Dohmen, with a career in banking and now an ASC literature instructor, talked to us about income inequality. He traced the trends in the widening gap between the top wealthy few and the rest of Americans over the last decades, enumerating its causes and effects. Then members discussed possible solutions, including major tax reform, protections for workers and consumers, getting money out of politics, controlling Wall Street, and reversing the current course in Washington in the upcoming elections.
Another ASC member/presenter was Fred Benson, whose career in the military was followed by work at the White House. Fred discussed the responsibility of the military, especially when the Commander-in-Chief might give ill-conceived and dangerous orders. Is the military loyal to the president or to the Constitution? Historical examples such as the My Lai massacre in Vietnam were discussed as were concerns about our current situation.
Linda Dunn, ASC Board member and instructor, a retired fetal medicine physician, led a conversation about abortion. She presented facts and figures about recent trends to restrict a woman's right to choose abortion in various parts of the country. Most everyone present believed that women must be responsible for their own reproductive health decisions. But there were many opinions about how to defend these rights, and what restrictions might be reasonable or desirable.
Seth Singleton's talk called "Trump Is Good for Us" filled within hours of being posted on the ASC website and was an energetic conclusion to the Coffee Clash season. Seth is a professor of International Relations at UMaine and gives popular courses on such topics for ASC. His presentation touched on the tendencies toward authoritarianism in Russia, Europe, and at home. Such factors as Trump's vilification of the press and denigration of the Judiciary were highlighted as danger signs for America. And although none of the "red lines" indicating a move to fascism have been crossed, he called for awareness and vigilance. Members expressed their own concerns and fears, offering solutions that ranged from talking to neighbors to abolishing the Electoral College.
In addition to our in-house experts, Coffee Clash hosted talks by invited guests as well. Moira O'Neill, nurse-educator and political activist, spoke about our precarious health care system and told about the aims of Maine Allcare, an organization devoted to establishing a single payer system in our state. Members discussed the pros and cons of solutions such as universal, single payer, and National healthcare systems. Our other invited guest was Ann Luther of the League of Women Voters, who spoke to us about the role of money in our political system. Members talked about the roles of PACs, Citizens United, freedom of speech and media issues. There were lots of ideas about how to return control of the political process to citizens.
When Peggy Forster passed away last summer, ASC renamed her most beloved project The Peggy Forster Coffee Clash. She would have been excited and proud to observe the tables at Sips crowded and the air filled with lively conversation on cold winter mornings.
---
Schoodic Getaway 2018 Acadia Senior College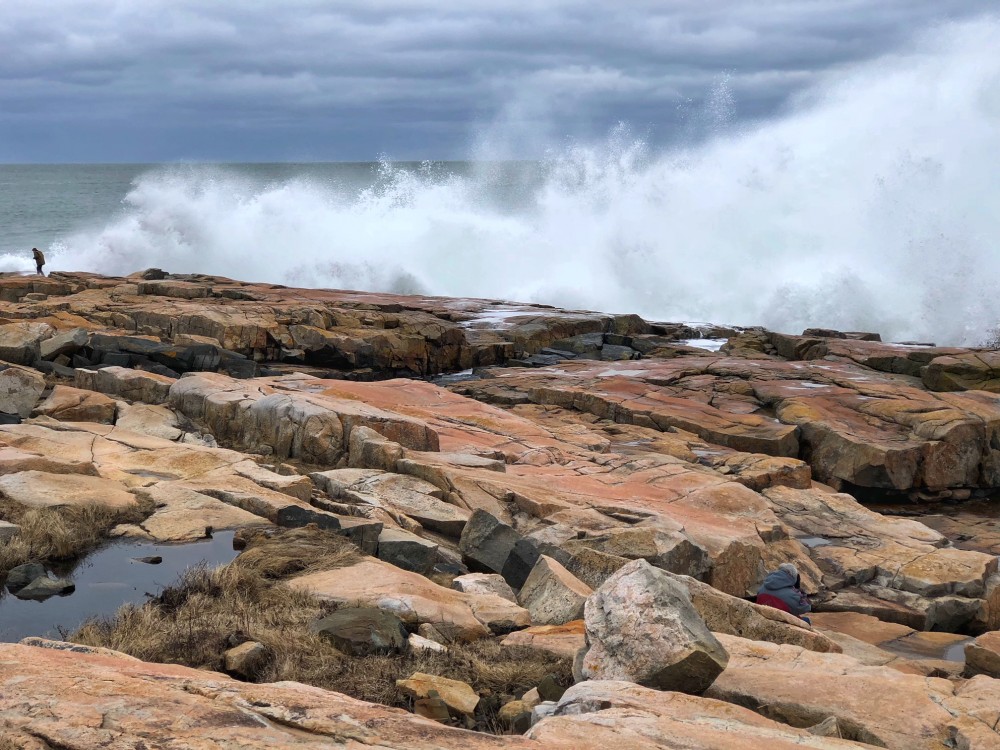 On March 4th, ASC members gathered at Schoodic Education and Research Center for our third annual Schoodic Getaway. After a hearty and tasty lunch, we headed out on a guided photography walk.
Photographer Bob Thayer had been hoping for some snow, so we could hone our winter camera skills, but the ground was bare. Still, the weather here on the Maine coast always has some surprises in store – and we were greeted at Schoodic Point with unexpectedly big surf. The March 2nd nor'easter lingered out at sea, generating rollers that crashed into the granite ledges, sending huge plumes into the air. Mesmerized, we took shot after shot with cameras and phones, as Bob continued to give us pointers. Everyone braved the chilly wind to see if the next wave might yield an even greater spectacle than the last.
Next it was time to warm up at Schooner Commons, a beautiful building on the SERC campus, where we were fortunate to have the ballroom, complete with roaring fire, as our gathering space. Scott Worcester (Sawyer's Specialties) and Bob Bartlett (Bartlett's Winery) offered us an array of Bartlett's local wines to taste, including dry pear, rich blueberry, and sweet berry dessert wines. Our wine and cheese hour was a great way to warm up and socialize.
After lobster stew, New England boiled dinner, and ice cream sundae bar, we headed out to Moore Auditorium, where we enjoyed "The Secret of Roan Inish." The main character of this lovely film, set on the coast of Ireland, is a young girl who discovers more than the family secret (that they have seals in their ancestry), as she prods them to resettle their island home. Cloudy skies precluded our planned stargazing session, but many of us stayed up late anyway, watching the Oscars with our suitemates.
By Monday morning, most of the clouds had cleared, and we set off with Schoodic Institute ornithologist Seth Benz to look for sea birds. The still-rough seas and unrelenting wind kept the birds hunkered down, but we still saw many species, including strikingly-feathered Harlequin ducks.
Lunch was a hands-on experience: Retired Ranger Ed Pontbriand and friends led us through all the steps as we filled eight cast iron Dutch ovens and tended them with glowing coals. The March sun offered some welcome warmth, as did the big fire burning by the Picnic Pavillion. We were even entertained by some historic logging camp music as we enjoyed our black-bean-enchilada, sausage- lasagna, and broccoli-cheese casseroles, along with biscuits, and finished up with apple-rhubarb crisp and pineapple upside-down cake, all cooked outside in Dutch ovens.
Some ASC members attended this event for the first time, others were returning for a second year, and a few had been all three times. Driving home, our carload agreed it was great to get away to a remote location, learn what's going on at SERC, and enjoy each other's company. The Schoodic Getaway surely embodied our ASC motto: Stimulation, Knowledge, Interaction, and Fun!
---
World War I and America – A Series of Exploration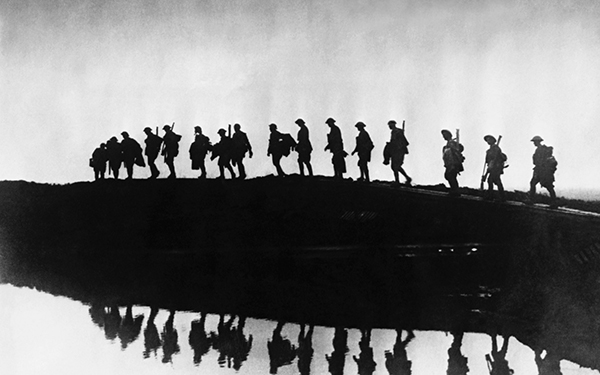 Join the Jesup Memorial Library, Acadia Senior College, and the George Edwin Kirk American Legion Post 25 for "World War I and America," a series of eight programs in early 2018 about the first World War and its effects on America and our local MDI community. Also, from January through March, stop by the Jesup to see artifacts and documents pertaining to World War and other wars, donated for display by the George Edwin Kirk American Legion Post, and members of the MDI community.
This is all part of "World War I and America," a two-year national initiative of the Library of America presented in partnership with The Gilder Lehrman Institute of American History, the National World War I Museum and Memorial, and other organizations with generous support from The National Endowment for the Humanities. For more information on any of the programs in this series contact Melinda Rice, Program Director at the Jesup Memorial Library, at mrice@jesuplibrary.org or at 207- 288-4245.
All programs are at the Jesup Memorial Library and are free to attend, though some do require advance registration.
Mon. Jan. 8 from 9:30 to 11:30 a.m.
Facilitated discussion with Dr. Libby Bischof
Dr. Bischof, an associate professor of history and the chair of the Department of History and Political Science at the University of Southern Maine, will moderate an in-depth discussion,
springboarding from assigned readings. Dr. Bischof is a 19th-century American cultural historian. The event is free and open to the public but registration is required. To register contact Melinda Rice at mrice@jesuplibrary.org or at 207-288-4245.
Sat., Jan. 13 at 1 p.m.
"George Kirk and Bar Harbor in World War I" with the George Edwin Kirk American Legion Post 25
Members of the Post will share the story of George Kirk, his life and World War I service, and how he came to be the namesake of Bar Harbor's American Legion post. George was a 1912 graduate of Bar Harbor High School and died at a field hospital in Europe in 1918. There will be some WWI-era documents and artifacts on display.
Thurs., Feb 1 at 7 p.m.
Film Screening: "War Horse"
Join us for a community screening of the Academy Award-nominated film "War Horse," set during World War I and directed by Steven Spielberg. In the film, a British teen named Albert raises and trains a horse, Joey, but at the outbreak of World War I, Albert's father sells the horse to the British cavalry. Against the backdrop of the Great War, Joey begins an odyssey full of danger, joy and sorrow, and he transforms everyone he meets along the way. Meanwhile Albert, unable to forget his equine friend, searches the battlefields of France to find Joey and bring him home.
Sat., Feb. 12 at 1 p.m.
"World War II: Exploring Local Connections" with the George Edwin Kirk American Legion Post 25
Join a panel of speakers including those who served in WWII and learn more about the experiences of MDI residents during WWII.
Sat., March 10 at 1 p.m.
"The Wars in Korea, Vietnam, and Beyond: Exploring Local Connections" with George Edwin Kirk American Legion Post 25
Join a panel of speakers including those who served in Korea, Vietnam and subsequent wars and learn more about the experiences of MDI residents who served in them.
Mon., March 12 at 9:30 a.m.
Facilitated Discussion with Dr. Donald Zillman
Join Dr. Zillman for a facilitated discussion about the American experience during World War I, based on "Living the World War," which delves into experiences of American citizens during the war and explores how the experience of war and emerging national issues profoundly shaped America in the 21st century. Dr. Zillman is the Edward Godfrey Professor of Law at the University of Maine School of Law. He has worked as professor and dean at several law schools in addition to serving an Army Judge Advocate, and as a visiting professor at the U.S. Military Academy at West Point and the University of Southampton in the United Kingdom. He will give an author talk the same day at 7 p.m. The event is free and open to the public but registration is required. To register contact Melinda Rice at mrice@jesuplibrary.org or at 207-288-4245.
Mon., March 12 at 7 p.m.
Author Talk and Book Signing: Dr. Donald Zillman, "Living the World War: A Weekly Exploration of the American Experience in World War"
Join Dr. Zillman as he talks about his comprehensive book "Living the World War." Using the Congressional Record and the New York Times, "Living the World War" explores the experiences of American citizens during the war in days before mass communications, when the people at home did not know what was happening overseas in real time. The book also explores how the experience of war and emerging national issues profoundly shaped America in the 21st century. Dr. Zillman is the Edward Godfrey Professor of Law at the University of Maine School of Law. In his career he served as an Army Judge Advocate, and a professor of law at Arizona State University and the University of Utah before coming to Maine as the dean of the University of Maine Law School. He also served as the president of the University of Maine at Presque Isle and as a visiting professor at the U.S. Military Academy at West Point and the University of Southampton in the United Kingdom.
Thurs., March 29 at 7 p.m.
"The Maine Homefront in WWI" with Earle Shettleworth
Join Maine State Historian Earle G. Shettleworth, Jr. to learn more about Maine's role in WWI both at home and
abroad. This illustrated lecture documents the role played by Maine men and women in World War I, especially here at home. Thirty-five thousand men and women from across the state joined the military in 1917 and 1918 to fight in a "war to end all wars" that promised to "make the world safe for democracy." Maine civilians supported the war by purchasing $118.4 million in government bonds and $8.4 million in war savings stamps. Private sector relief programs operated by the American Red Cross, YMCA, YWCA, and the Salvation Army also received generous contributions from the public. Newly unearthed historic photographs, many of them real photo postcards of the era, tell the story of recruitment, troop departures, parades, bond drives, shipbuilding, war-related industries and knitting socks for the soldiers. This chapter in Maine's past comes alive in these century old pictures.